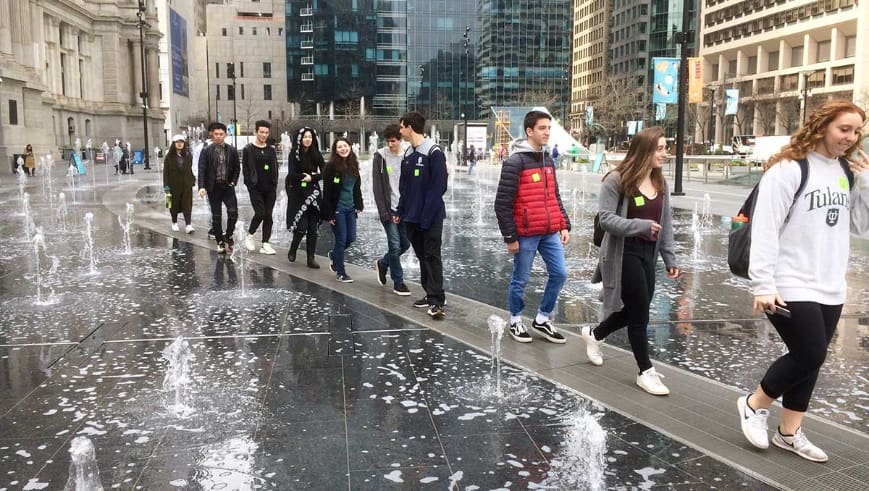 If you're moving to the Philadelphia area, you're in luck. Philadelphia, also known as the "City of Brotherly Love," is an amazing place to raise a family. The city is home to iconic historical landmarks like the Liberty Bell and Declaration of Independence, and is only a few hours away from both Washington D.C. and New York City.
In addition to its rich history, Philadelphia is home to countless attractions like museums, zoos, and camps, and its suburbs boast picturesque scenery and natural attractions.
---
Free Downloadable Guide: Take a Closer Look at Friends' Central School
---
Despite all of this, as a parent, planning a move to a new city can be a particularly stressful time. There's a lot to consider, and you're probably asking yourself important questions like: Where will we live? Where will my children go to school? What types of activities are there for my kids? How do I make sure that this is an easy transition for my family? Ultimately, you want to ensure that you're making the right choice for your family and that your children will be able to adapt to their new environment.
Here, we offer a step-by-step guide to raising your family in Philadelphia to make your family's transition smoother.
Step-by-Step Guide to Raising Children in Philadelphia
1. Move to a family-friendly neighborhood.
With over 150 neighborhoods and 100 suburbs to choose from in the Philadelphia area, it's important that you carefully consider which is the best fit for your family.
While some families might prefer to live downtown in Philadelphia's Center City, others might prefer a suburban environment in Philadelphia's Main Line.
When choosing a neighborhood, you should consider factors like commute, walkability, quality of education, and kid-friendliness.
2. Enroll your child in the right school.
Philadelphia is home to an abundance of both public and independent schools. Whether your child is in kindergarten or high school, you want to ensure that they'll be in an environment where they will thrive.
Public schools in the Philadelphia area are generally neighborhood-based, meaning that if you choose this route you'll have little control over the school that your child attends. On the other hand, enrolling your child in an independent school will give you more freedom of choice. You'll be able to do your research and determine which school's mission aligns best with your values and specific educational goals for your child.
Many of the independent schools in the Philadelphia area are Quaker schools, also called Friends schools, meaning that their educational approach is based on the values of The Religious Society of Friends, or Quakers. These schools focus on children as individuals, focusing on their social and emotional wellness as a key to their academic success.
3. Find kid-friendly activities.
To keep your child engaged and happy following your family's move, try planning fun activities that the whole family can participate in. Luckily, there is no shortage of kid-friendly activities in Philadelphia and its surrounding suburbs.
Depending on their age, some activities that your child might enjoy include learning about animals at the Philadelphia Zoo, strolling through the King of Prussia Mall, visiting the LEGOLAND Discovery Center, or engaging in a hands-on learning experience at one of the city's various makerspaces. Your family is also sure to enjoy attending one of the many kid-friendly events at the Philadelphia Art Museum or The Academy of Natural Sciences of Drexel University.
If you plan on moving to Philadelphia during the summer or fall, there are also plenty of seasonal activities that your child can participate in, such as attending a summer camp in the Philadelphia Main Line or attending a fall-themed festival at Franklin Square.
4. Explore the local scenery.
Outdoor exploration is important for children of all ages, especially those who are moving to a new and unfamiliar city. Fortunately, Philadelphia is home to many different parks, gardens, and hiking trails that the whole family can enjoy.
You'll find stunning parks and gardens along the Philadelphia Main Line where your family can enjoy walking paths, sports, picnic areas, and community events. Botanical gardens can also be a great learning experience for children. For example, at Chanticleer Gardens in Wayne, PA, guests can speak with gardeners about the thousands of different plants that make up the garden. You'll also find captivating parks and greenspaces in the heart of the city, such as James G. Kaskey Memorial Park and the PECO Green Roof Garden.
In addition to beautiful parks and gardens, you can also keep your family busy at one of the many different nature spots and kid-friendly hiking trails in the Philadelphia suburbs. Consider bringing the family to the Schuylkill River Trail, which starts in downtown Philadelphia and passes through urban, rural, suburban, and industrial landscapes. Taking a family stroll on one of these trails can help you to familiarize your child with their new surroundings while also teaching them about the importance of sustainability.
5. Locate museums and art venues.
The Philadelphia area offers families countless opportunities for interactive learning through history and the arts. Keep your child engaged by bringing them to local art venues and museums where they can learn about the rich history of their new city and its affinity for performing and visual arts.
As the nation's first capital, Philadelphia is one of the greatest cities in the country for an interactive history lesson with your family. Consider a family outing to historic landmarks and museums like the Independence National Historical Park, National Constitution Center, or Betsy Ross House. If your child isn't quite old enough for a history lesson, they might enjoy some of the more interactive museums and learning experiences along the Philadelphia Main Line.
In the Philadelphia area, there are also plenty of opportunities to keep your child engaged through the arts, whether it be through theater, music, literature, or visual arts. Consider attending a show at a family-friendly art venue such as the Walnut Street Theatre or the Philadelphia Orchestra. In addition, the Philadelphia Museum of Art is a great place to expose your child to the visual arts through either guided tours or kid-friendly events at the museum.
6. Experience Philadelphia's sports teams.
To keep your children engaged in a new city, explore the many opportunities for sports and athletics that Philadelphia has to offer. Regardless of whether your family would like to spectate or participate, Philadelphia is an amazing place for sports fans of all ages.
Philadelphia is home to major league professional teams in the National Football League, Major League Baseball, National Basketball Association, and the National Hockey League. Consider taking the sports fans in your family to a Philadelphia Eagles game at Lincoln Financial Field or a Philadelphia Phillies game at Citizens Bank Park.
In addition to major league sports, there are also ample opportunities for your children to participate in sports and athletics themselves. The Philadelphia Dragons Sports Association is a local sports league offering baseball, flag football, and basketball to children throughout the Philadelphia area. Depending on their age, your children can also participate in other athletic activities at the school that you enroll them in. At Friends' Central School, students have the opportunity to join sports teams ranging from Cross Country to Tennis.
Helping Your Child Thrive in Philadelphia
Moving to a new city can be stressful for the entire family. To ensure that your child thrives in their new environment, keep them engaged by immersing them in all that the Philadelphia area has to offer.
After choosing where to live and familiarizing your family with the area, it's important that you enroll your child in a school that can help ease the transition. Speak with admissions counselors at the schools that you're considering, and schedule visits and tours with your child to determine which community is best for them.