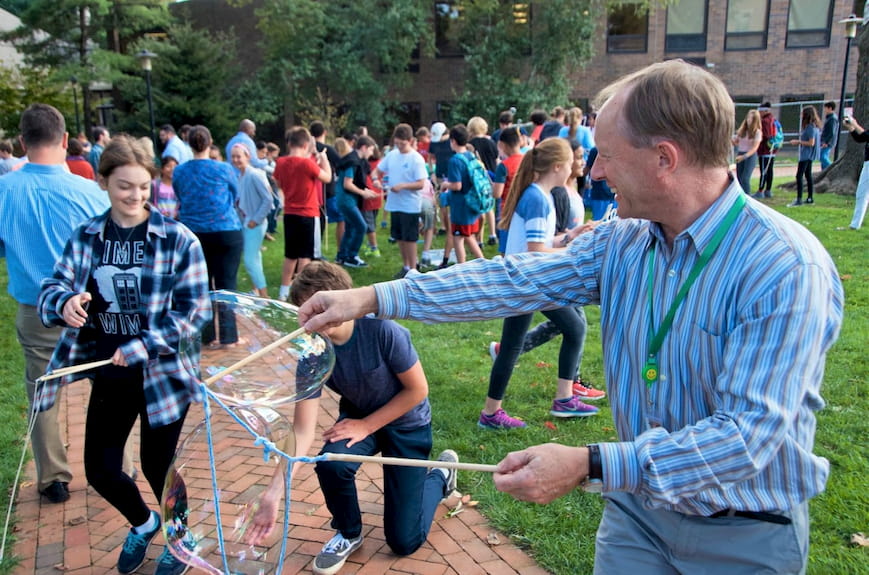 As highly anticipated as summer break might be, two months away from the classroom can suddenly feel like a long time when the summer boredom begins to set in. So, how do you find ways to keep your kids busy that are fun, educational, and adventurous? Finding activities that check all of these boxes can be harder than you might think.
Participating in summer camps allows children to take part in learning experiences outside of a traditional classroom setting and explore the topics and activities that interest them in ways that aren't always available.
Summer Camps in the Philadelphia Main Line Area
Thankfully, the Philadelphia Main Line Area is home to many camps filled with summer fun and excitement, as well as endless learning opportunities.
Here are 7 popular summer camp options in the Main Line area:
1. Friends' Central Summer Camps
Friends' Central School invites current students and new families to explore the summer camp programs offered at our lower and upper school campuses. Popular programs include our traditional day camps such as Tenderfoot Camp for ages 3 to 6 and Trailblazer Camp for ages 6 to 12. Campers participate in indoor and outdoor activities, themed weeks, instructional swim, and much more to keep them engaged and active during the summer.
Friends' Central School also offers more unique camps such as the Mighty Maker Camp at the Light Lab on Friends' Central's Lower School campus. This program includes access to CAD design and 3D printers, Adobe Illustrator, prototyping materials, and much more for children entering grades 1 through 5. Additionally, the Summer Scholars camp is focused on strengthening skills from the previous year or advancing to the next level in areas such as math and writing.
2. Main Line Art Center
Children and teens who enjoy arts and creativity can enroll in summer art camps at the Main Line Art Center in Haverford, PA. The Art Center offers programs for children and teens aged 5 to 16, with each session focusing on a unique theme sure to spark imagination.
Kids can explore their interest in art through hands-on learning in a supportive, social, and encouraging environment. Scheduling is flexible with full or half day options available in addition to before and after care.
3. Wolf Performing Arts Center
For those more interested in performing arts, consider joining the Wolf Performing Arts Center's summer theatre camp with programs for kids and teens from kindergarten through 12th grade.
Young performers can develop their acting, singing, and dancing skills during camp sessions that each culminate in original shows for family and friends to enjoy. Sessions run from 9:00 am to 4:00 pm during the week with options for before and after care available.
4. Brandywine School of Wizardry
The Brandywine School of Wizardry offers Harry Potter themed summer camps at various locations throughout Chester, Montgomery, and Bucks Counties, including sessions at Rosemont College in Bryn Mawr.
These week-long camps are ideal for kids and teens aged 6 to 15 years old interested in the exciting world of magic. The fun and engaging activities offered by the camp are similar to those in the Harry Potter stories and encourage creativity and problem-solving among campers.
5. CCEDC STEM Innovations Programs
The Chester County Economic Development Council provides students with STEM-based learning opportunities through summer programs in the fields of healthcare or technology and engineering.
The Technology and Engineering Summer Academy camps are designed to provide high school students aged 15 to 18 with educational enrichment to help them explore their career interests. The courses act as supplements to regular classwork and are also focused on developing leadership and business skills through shadowing and mentoring opportunities and hands-on activities.
6. Emagination Tech Camps
Kids who are especially interested in technology will love Emagination's Pennsylvania Summer Tech Camp at Rosemont College in Bryn Mawr.
The camp runs on a schedule consisting of two-week long sessions including overnight or day camp options. During the sessions, campers can choose from courses designed for every skill level in areas like digital art and media, game design, coding, and engineering.
7. Camp Pegasus
Camp Pegasus is a unique summer camp option that specializes in helping kids both with and without a formal diagnosis of ADHD, learning differences, and high functioning Autism.
The camp provides a supportive and encouraging environment for children and promotes social-emotional development through social-skills based curriculum and activities.
Camp Pegasus offers two week sessions for kids and teens from 6 to 16 years old and is held at Barrack Academy in Bryn Mawr.
Beating the Summer Blues
If you are looking for ways to get your kids out of the house this summer, consider enrolling them in a summer camp that aligns with their interests. The Philadelphia Main Line area has many options to choose from ranging from traditional day camps to science and technology focused programs and arts-based camps.