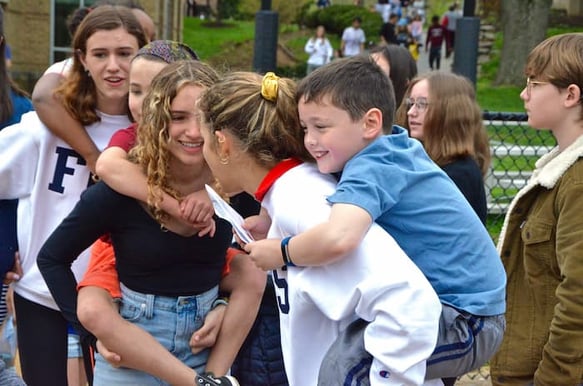 Finding meaningful ways to engage children when they're not in school can sometimes be a challenge. When it comes to celebrating holidays like the Fourth of July, it can be even harder to find interesting things to do if you don't like fireworks!
Take a look, parades, carnivals, and neighborhood events are great ways to get kids excited about Independence Day while engaging them in community-focused activities. Here are some of the popular, family-friendly Fourth of July celebrations taking place along the Main Line this year.
---
Free Downloadable Guide: Take a Closer Look at Friends' Central School
---
Family-Friendly Fourth of July Activities on the Main Line
July 4, 2019, at 11:00 AM
Johnson Park, 122 Bridge Avenue, Berwyn, PA 19312
This year marks the 16th annual installment of the Easttown Fourth of July Bike Parade and Picnic hosted by the Easttown Township Parks and Recreation Board. The bike parade kicks off at 11:00 AM on Thursday, July 4th at Johnson Park in Berwyn. Registration for participation in the parade will begin at 10:15 and all are welcome to enter. Following the parade, attendees are invited to enjoy a picnic full of family friendly activities including a moon bounce, face painting, races, and competitions. This is a free event intended for all ages.
July 4, 2019, 7:00 PM - 9:30 PM
Wilson Farm Park, 500 Lee Road, Chesterbrook, PA 19087
On the evening of July 4th, all are invited to enjoy live music from the Chester County Concert Band at Wilson Farm Park in Chesterbrook. Pack a picnic or enjoy treats from local vendors and celebrate Independence Day with live music in the park. The concert will begin at 7:00 PM followed by a fireworks display at dusk.
July 4, 2019, 9:30 AM - 1:00 PM
Bala Cynwyd Park, 398 Trevor Ln, Bala Cynwyd, PA 19004
The Neighborhood Club of Bala Cynwyd is presenting its annual Fourth of July Parade and Carnival this Independence Day. The parade will begin at 9:30 AM at the Bala Cynwyd Fire House and conclude with a carnival at Bala Cynwyd Park. This event is one of the oldest and most popular ways to celebrate the July 4th on the Main Line since first being sponsored by the NCBC in 1916.
Activities will include carnival games, rides, running races, and of course, an egg toss. Guests can enjoy a variety of food options such as traditional hot dogs and pretzels, as well as options from local restaurants.
July 4, 2019, 9:30 AM - 1:00 PM, Wynnewood
Penn Wynne Park is located at 1214 E. Manoa Road in Wynnewood.
The Penn Wynne Civic Association will be hosting its 76th annual Fourth of July Parade and Carnival from 9:30 AM to 1:00 PM on Thursday, July 4th this year. Children and families are invited to decorate bicycles or wagons and participate in the parade. The parade route concludes at Penn Wynne Park with a carnival featuring food, drinks, games, and activities for the whole family.
Narberth Fourth of July Celebration
July 4, 2019, 10:00 AM - 2:00 PM
Narberth Playground, 80 Windsor Avenue, Narberth, PA 19072
Narberth's annual Fourth of July Celebration has come one of the biggest Independence Day events on the Main Line and regularly attracts crowds from neighboring communities. Although the celebration concludes with a spectacular fireworks display in the evening, there is much more to this event that takes place during the day. From 10:00 AM to 2:00 PM guests can enjoy a carnival complete with family activities, food, parades, races, contests, games, and more.
July 4, 2019, 10:00 AM - 1:00 PM
Elwell Field, 700 Ardmore Avenue, Ardmore, PA 19003
For family fun in the Ardmore area, join the South Ardmore Betterment Alliance for its annual Fourth of July celebration. The event will kick off with a parade beginning at Chestnutwold Elementary School and end at Elwell Field where adults and children can participate in a variety of events. Food will be available for purchase at the event, but it is recommended that guests bring their own water bottles.
July 4, 2019, 10:45 AM - 2:00 PM
Clem Macrone Park, 810 Conestoga Road, Bryn Mawr, PA 19010
Another popular parade on the Main Line is the Garrett Hill 4th of July Parade. The opening ceremonies begin at 10:45 AM on July 4th at the corner of Conestoga Road and Williams Road; however, those who wish to participate in the parade must register between 9:30 and 10:00 AM.
Following the parade, guests can gather at Clem Macrone Park to continue the festivities with live music, food, and other entertainment. Children and families will enjoy rides, face painting, spin art, a dunk tank, and much more at this year's celebration.
Additional July 4th Celebrations
If you don't mind traveling a bit farther, here are some Fourth of July events to consider that are outside of the Main Line, but still within the Philadelphia area.
July 4, 2019, 11:00 AM - 3:00 PM
Betsy Ross House, 239 Arch Street, Philadelphia, PA 19106
To emphasize the historical significance Independence Day, consider bringing your kids to Betsy's Independence Day Bash at the Betsy Ross House on July 4th. This free event takes place from 11:00 AM to 3:00 PM and includes various activities for kids, including a children's naturalization ceremony at 1:30 PM. This is a unique experience for children to experience the holiday in an engaging and educational way.
Celebration of Freedom Ceremony at Independence Hall
July 4, 2019, 10:00 AM - 11:00 AM
Independence Hall, 520 Chestnut Street, Philadelphia, PA 19106
The City of Philadelphia in collaboration with Wawa Welcome America is hosting a Celebration of Freedom ceremony at Independence Hall on July 4th. The ceremony is a free, hour long event consisting of music, speeches, and readings from the Declaration of Independence. For those who are planning to attend the Salute to America Independence Day Parade at 11:00 AM, this ceremony is a must-see to kick off the event.
July 4th, 2019, 12:00 PM - 3:00 PM
Franklin Square, 200 North 6th Street, Philadelphia, PA 19106
Another great way to celebrate the Fourth of July is to visit Franklin Square's Independence Day Celebration. Children and families can enjoy minigolf, the Parx Liberty Carousel, Franklin Square playground, and more. Additionally, visitors can hop aboard the Lightning Bolt Express Train for a ride around the park during this event. Admission costs $5 for adults and $4 for children.
Bringing the Family Together
No matter how you decide to celebrate the Fourth of July, it is a great time to spend time with family. There are endless opportunities to celebrate the holiday in ways that are both fun and engaging for your children on the Main Line. At the core of each of these events is the chance to get your kids involved in community-focused activities.