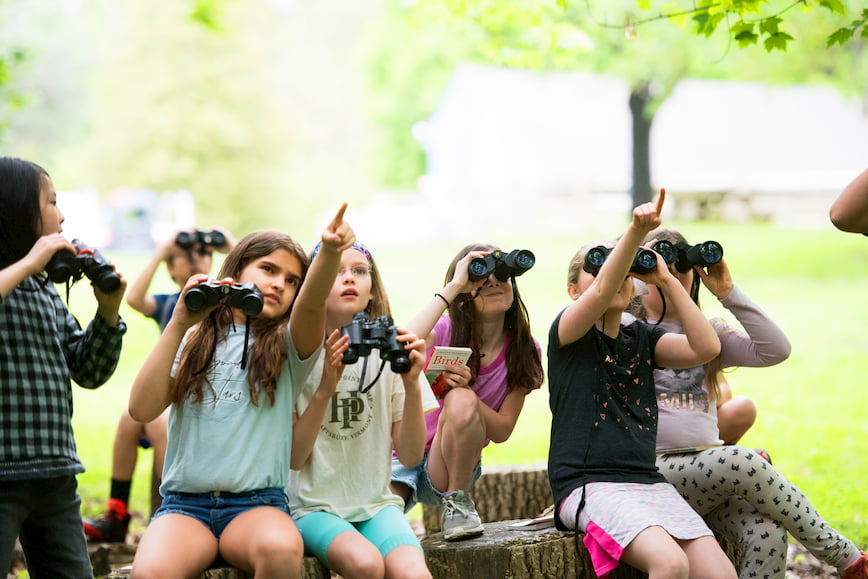 It's no secret that spending time outside is physically, mentally, and even emotionally beneficial for kids (and parents too!). According to the National Parks and Recreation Association, parks and greenspaces support human wellness and offer a variety of health benefits such as reduced stress, improved mindfulness and creativity, and overall mental and emotional well being.
---
Free Downloadable Guide: Take a Closer Look at Friends' Central School

---
If you're looking for ways to shake up your family's routine, you're in luck—the Main Line area is home to many great parks and gardens. No matter what neighborhood of the Western Philadelphia suburbs you live in, you are almost guaranteed to find a great spot.
Parks and Gardens on the Main Line
There is no shortage of fantastic parks and gardens in the Main Line area, so here is a list of just a few ideas for your next family outing.
1. Merion Botanical Park
Created in 1944 by the Botanical Society of Lower Merion, the Merion Botanical Park is a 13.5 acre greenspace in Merion Station, PA. The park is complete with walking and jogging paths plus large open spaces for recreational activities. Merion botanical park is a fantastic place to bring the family for an outdoor adventure, to relax with a book, or enjoy a family picnic.
The park's diverse plant life makes it a standout nature spot in the area. During the fall season it is an ideal location to take in the fall foliage and it makes for a beautiful photo backdrop during the spring and summer. Better yet, the botanical park is a great opportunity to teach kids about nature.
2. Chanticleer Gardens
This 48 acre botanical garden in Wayne, PA boasts enchanting scenery sure to spark imagination within the whole family. Unlike other, more traditional parks, Chanticleer Gardens is focused on beauty and importance of plant life. When visiting, guests are encouraged to speak with the gardeners to learn about the more than 5,000 plants that make up the garden and the interesting history behind the property.
Chanticleer Gardens will be open for the 2020 season starting Wednesday, April 1st. Hours typically run Wednesday through Sunday from 10 am to 5 pm and on Friday evenings throughout the summer, the gardens remain open until 8 pm. Admission to Chanticleer costs $10 for adults and free for children 12 years and under, however, Radnor Library cardholders receive discounted admission price of $5. Parking is free but space is limited, so be sure to plan your visit ahead of time! Guests are welcome to pack a lunch and enjoy one of the picnic areas available throughout the space.
3. Wilson Farm Park
Wilson Farm Park is another popular destination for families in the area.
This Main Line favorite located in Chesterbrook is one of the more unique options in the area, simply due to the number of activities offered.
The park boasts an amphitheatre, baseball fields, picnic areas, putting greens, a sand volleyball court, and several playscapes. The play area at Wilson Farm Park includes an all-abilities playground, allowing for inclusive play opportunities for children of all ages and abilities. The park also features a unique 4 hole disc golf course, so be sure to pack a frisbee and try out something new with your kids.
4. Ashbridge Memorial Park
Nestled between Rosemont College and Bryn Mawr College in Bryn Mawr, PA, Ashbridge Memorial Park offers plenty to do for both toddlers and bigger kids. This beautiful and well-maintained space was donated to Lower Merion Township by Emily Ashbridge in 1937. In fact, the historic Ashbridge House stands as a reminder of the land's rich history and adds to the beauty of the park scenery.
The park offers walking paths and open space for picnics, sports, and even sledding in the winter. Younger kids love Ashbridge Park's playground and jungle gym equipment--the unique climbing web structure is a favorite among local children. Bigger kids can hit the tennis courts or play ball with friends in the large open spaces offered by the park.
5. South Ardmore Park
South Ardmore Park in Friends' Central School's own Wynnewood, PA is another popular spot for local kids and families. The adjoining South Ardmore Playground offers play structures for kids of all ages, including a "tot lot" specifically for toddlers. Other park amenities include a baseball field, basketball courts, soccer fields, tennis courts, a meeting area, and more.
6. Clem Macrone Park
This large park in Bryn Mawr, PA has all of the features of a great community space and then some. In 2017 the Clem Macrone Park underwent a redesign and renovation project which involved updates to its basketball court, tennis courts, playground, and comfort station. New features were also added to the park including a .4 mile walking path, a bandshell, and a picnic pavilion.
The park is well-known for hosting community events such as the Garrett Hill 4th of July Parade and Picnic Celebration each summer. Recreational activities are always taking place at Clem Macrone Park as well. No matter how you plan to spend your day at the park, there is no doubt that there is something for everyone at this neighborhood favorite.
Get Out and Find a Park or Garden Near You
These are just a few of the many parks and gardens in the Main Line area that families should be sure to explore. Whether your kids are interested in learning about nature, getting involved in sports with friends, or just enjoying a picnic with family, you can be sure to find an ideal space in your neighborhood.