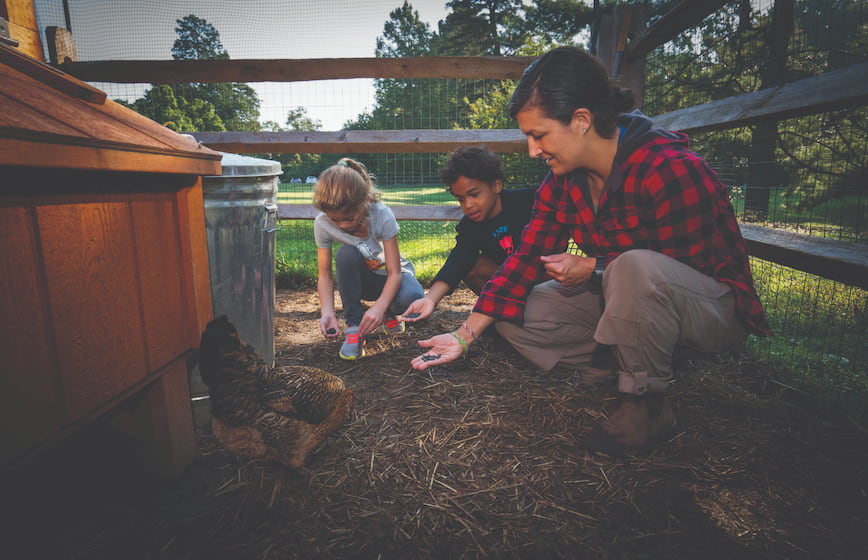 Summer has officially arrived, and school is out for the season. But a break from academics doesn't necessarily have to mean a break from engagement and creativity! Keeping your kids engaged and learning, even in the summertime, can help them stay in a "learning" mindset, where they can continue to develop and thrive even outside of school.
However, when the dog days of summer hit, this can be easier said than done. Aside from just keeping your kids busy, you also want to make sure that they are staying active and continuing to develop their skills outside of the classroom, all while having fun. Finding activities that fit all of these criteria and sometimes be a challenge, but there are plenty of options for summer fun in the Philadelphia Main Line area.
---
Free Downloadable Guide: Take a Closer Look at Friends' Central School
---
Summer Fun on the Main Line
There is no shortage of kid-friendly activities on or near the Main Line to fill your summer days. From cooling off at a local pool to getting creative with imagination-based play, there is always something to do to keep your kids engaged.
Here is a list of fun activities to keep your kids busy this summer:
1. Learn about nature and animals.
There are plenty of opportunities to give your kids an engaging and hands-on learning experience through nature on the Main Line.
Riverbend Environmental Education Center in Gladwyne is one such attraction that prides itself on teaching children environmental principles through direct contact with nature.
The petting zoo at Linvilla Orchards in Media is another great opportunity for children and families to learn about animals. Although Linvilla Orchards is south of the Main Line, there are various family-friendly activities sure to keep you entertained for hours, making it well worth the drive.
Additionally, the Philadelphia Zoo offers an array of exciting exhibits that teach children about animals and their habitats. The zoo has a schedule filled with events all summer long and features various attractions to fit all interests.
2. Visit a local playground.
The Main Line area is home to many wonderful playgrounds where kids can enjoy outdoor play in the summertime.
Clem Macrone Park is a popular option in Radnor, which features an expansive playground as well as picnic areas, athletic fields, a nature trail, and other amenities. Other popular playgrounds in the Main Line area are the Narberth playground, Wynnewood Valley Park, and Freedom Playground in Haverford, each of which offers many opportunities for exploration, growth, and play.
3. Cool off at a local pool or swim club.
If you and your children need a break from the summer heat, there are many options available to cool off along the Main Line.
There are several local community pools in the area that resident families can join and enjoy, including Ardmore Avenue Pool at the Vernon V. Young Memorial Park, Belmont Hills Pool at Lewis J. Smith Park, and the Upper Merion Township Community Center.
Other options include popular area swim clubs such as The Cynwyd Club in Bala Cynwyd or Hilltop Swim Club in Havertown. Although membership is required to attend private swim clubs, they often include additional activities like tennis, basketball, and more.
4. Spark imagination with creative play.
It is important to keep your child's creativity flowing outside of the classroom, even during the summer.
Village Play Space in Berwyn offers a fun environment where children 6 years old and under can interact with each other and engage in imaginative play while parents and caregivers connect with their neighbors. Similarly, Lulu's Casita in Ardmore is a space where little ones can play and parents can stay.
If you are willing to travel a little farther, consider visiting the Legoland Discovery Center just outside of the Main Line area in Plymouth Meeting. This attraction features an interactive ride, Lego 4D cinema, and 10 Lego-themed play areas that are sure to ignite your child's imagination.
5. Get moving and stay active.
It can be easy to fall into a rut during the summer, so if you're searching for fun ways to keep your kids active, consider classes at The Little Gym of Narberth. This space is typically suited for toddlers and younger children and offers unique educational classes that focus on active play, but there are also classes for kids up to age 12.
For slightly older kids or fun for the whole family, pay a visit to Grand Slam USA in Malvern. This family entertainment center offers activities like laser tag, batting cages, obstacle courses, and more that are sure to keep you moving. In addition, Grand Slam USA also offers instructional training for a variety of sports including baseball, softball, basketball, and tumbling for cheer.
If you are looking to spark your child or teen's interest in sports, private lessons can also be a great way to get them started.
Make the Summer Meaningful
While school is out and warm weather is here to stay, make sure you take advantage of the time together with your children. The Philadelphia Main Line area has so much to offer, including fun and engaging activities for kids. Use this list as a starting place to plan your family summer activities to provide your children with exciting experiences that will continue to help them grow.