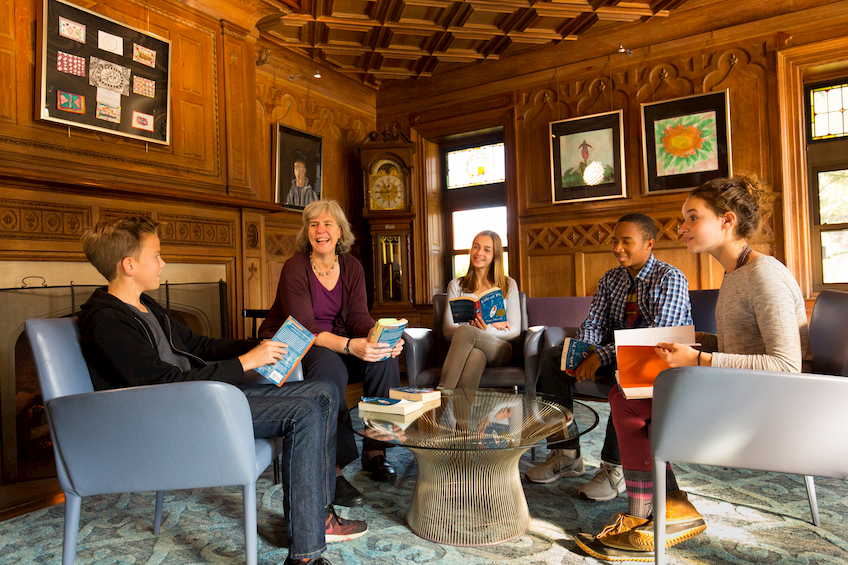 As families begin researching schools for their children, it quickly becomes apparent that parents and families have many choices. Not only are there so many options in a particular location; there are also different types of schools to consider, each of which potentially meets the needs of students and families in different ways.
Quaker schools are one such subcategory of
independent schools
that parents may not be familiar with.
---
Free Downloadable Guide: Take a Closer Look at Friends Central School
---
Families that are unfamiliar with Quakerism may not know what a Quaker school is, or what to expect at the lower, middle, or upper school level. So, when parents or students ask me what it means to be a Quaker school, I often start by helping them understand the Quaker educational philosophy and how that shapes the learning environment, which we explore below.
What Does it Mean to Be a Quaker School?
A Quaker school, also sometimes called a Friends school, is an institution that bases its educational approach on the values of The Religious Society of Friends, or Quakers.
Put simply, Quakers believe that the Light of the Divine resides within every person, and in a Quaker school, we try to see that light in every child and bring it out in ways that help that student feel seen and heard. Bringing out the gifts in each and every person helps us build a connected and vibrant community.
Beyond this, while each individual school will have its own unique mission and educational philosophy, a common thread in Quaker education is a commitment to learning through inquiry and reflection. As a result, critical thinking, curiosity, and creativity often form a foundation of Quaker school academics.
At Friends' Central School, school life and the curriculum are guided by our Quaker Philosophy, and it would be difficult to identify a moment in day-to-day activities that is not influenced in some way by this approach. The unique culture that this creates within our school builds an environment that allows room for listening and reflection in a world where these things are often missing.
Guiding Principles of Quaker Education
The guiding principles of Quakerism are often known by the acronym SPICES, which stands for: Simplicity, Peace, Integrity, Community, Equality, and Stewardship. Each of these values shapes the curriculum and overall environment of the school community.
Here are just a few examples of the ways that Quaker testimonies shape the day-to-day life at Friends' Central School, and how these guiding principles create a positive school culture:
Simplicity: In many instances, including our weekly Meeting for Worship, students are reminded of the value of silent reflection, which allows them to step back from life's complicated demands and focus on what is essential.
Peace: Through a variety of daily school activities, we strive to empower our students and teach them that they have the ability to peacefully transform the world. At the most basic levels, this means peacefully solving conflict in our relationships, in the classroom and the community.
Integrity: Students and teachers alike are held to a high standard of integrity, in which they are truthful and always do their best. Through continuous reflection, we teach students to understand the implications of their actions and decisions, and to strive to do what is right.
Community: Our school culture is built upon a strong community, and the importance of demonstrating respect for one another. From a young age, students learn to work side-by-side, collaborate with one another, and appreciate the ways that working together can make a difference in the lives of many and help them to learn in more meaningful ways.
Equality: The testimony of equality is fully embodied on the Friends' Central School campus. We welcome students from all walks of life with open arms to promote a culture of diversity and inclusion. We recognize that diverse viewpoints and opinions allow us to open our minds to new possibilities, and we encourage students and teachers to value the contributions that each person brings to the classroom on a daily basis.
Stewardship: In addition to academic growth, students grow emotionally and socially in ways that empower them to make a difference in the greater community. Through our emphasis on service learning, students see the impact that they are able to have on the world, and are inspired to continue making a difference throughout their lives.
Is Enrolling in a Quaker School Right for Your Family?
For families that are fairly new to the idea of Quaker schools, learning about the educational philosophy can be enlightening but also a bit confusing. One of the most common questions people ask is, "do you have to be a Quaker to go to a Quaker school?"
The short answer: No. Students do not have to be Quakers in order to attend a Quaker school. In fact, the vast majority of students and teachers at Friends schools are not Quakers.
Quakerism has much in common with many different faith traditions, and as such, people of all backgrounds are able to find ways to connect with Quakerism and Quaker pedagogy. Those who attend or work in a Friends school find themselves engaging in the values and belief systems, not the religion.
In fact, part of what makes Friends' Central such a great learning environment is the diversity of backgrounds and views that students and teachers hold. Our school culture upholds an environment where all viewpoints are welcome, and the new perspectives that are brought to discussions are valued.
For parents that are weighing the pros and cons of Quaker school, or any school for that matter, it is especially important to understand the needs of their own family. For instance, most parents want their children to have an exceptional learning education, but more often than not, they also want their kids to be healthy, happy, and engaged with the world around them. While many schools offer great academics, truly special schools are able to achieve both of these outcomes.
A strong Quaker education, like the one offered at Friends' Central, embodies an ongoing search for truth and shows students how their learning connects to the world around them. For those families that value academics as well as social and emotional growth, a Quaker education can be the vehicle that allows them to cultivate a lifelong love of learning in their children.
Choosing a Quaker Education
It can be difficult, especially for parents who are unfamiliar with Quakerism, to understand at first just how significant an impact a Quaker education can have on students. But, Quaker testimonies and pedagogy shape school culture in a ways that are unique and profound, and which can lead to lasting changes in how a child views education and the world around them.
If you are located in the Philadelphia area and you are considering enrolling your child in a Quaker school, you can start your journey by speaking with an admissions counselor at Friends' Central School, who will happily answer any questions that you might have. Similarly, you can also visit our campus and take a tour to better understand our culture and community, and learn what sets us apart.