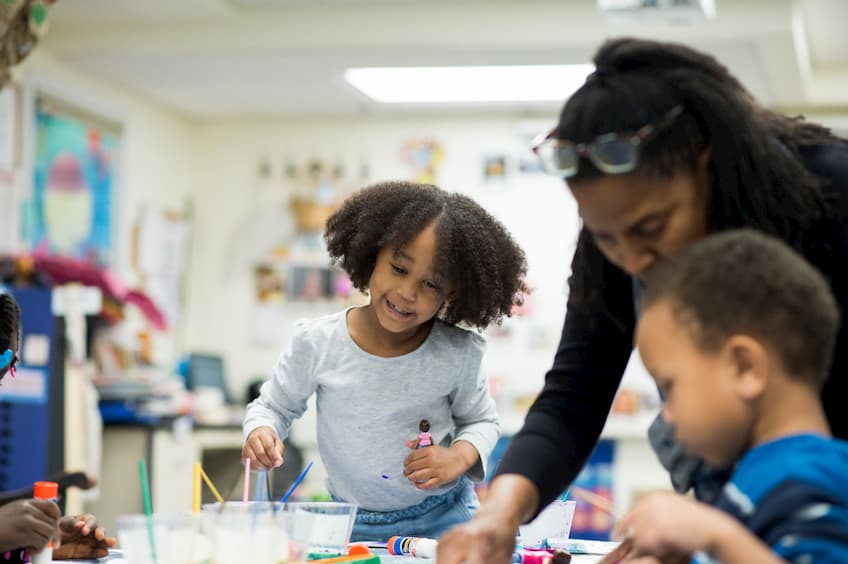 Choosing an elementary or lower school can be a difficult decision for families to make, and many people don't know what to expect once they decide to enroll. At this stage, parents are asking questions like: What will my child learn? Will they get the attention they need? How does this school stand out from the rest?
Answering these questions plays a pivotal role in evaluating schools to find the best fit for a family's needs. Here's a look into our school community to help families answer these questions and understand what they should expect from Friends' Central Lower School.
---
Download Our Lower School Brochure
---
Our lower school encompasses grades 1 through 5, as well as early childhood education programs including Nursery, Pre-K, and Kindergarten. Overall, our lower school programs are founded on hands-on, play-based education which develops the foundations of strong learners needed in middle school, high school, and beyond.
Fostering Intellectual Courage
At every stage in a child's education, Friends' Central strives to foster intellectual courage. At the lower school level, this is achieved by emphasizing the value that each child brings to the classroom and encouraging students to welcome the thoughts of their peers.
Andrea Lubrano, Director of Lower School Admissions, explains: "From the very youngest age, we teach children to listen carefully and respectfully to themselves, their friends, and their teachers. In doing this, our goal is to create a community and a culture of trust and kindness where children feel like they can take safe academic risks. We want them to feel like they can raise their hands, to boldly ask and answer questions, and to not be afraid to make mistakes."
In some schools, when students don't know the answer to a particular question or problem, they tend to "hide in the back of the classroom" rather than asking for help.
"What I like to tell families is that at Friends' Central there is no back of the classroom," says Lubrano. Instead, students are encouraged to value the questions of their peers and give positive feedback so that they can learn from each other without the fear of being embarrassed to try out new ideas.
Cultivating Conscientious Scholars
In addition to our goal of developing intellectual courage in our students, we also encourage children to understand their own learning so that they can challenge themselves to go further.
"A big piece of this is teaching children how to learn and how to push forward with their learning. What this means is that a particular lesson or assignment shouldn't be the end of the road. Instead we want our students to dig deeply and understand the processes that are involved," Lubrano explains.
Lower School students are taught to think critically about their own learning so that they can understand what they do and do not know, and be open to challenge. At this level, academics are rooted in a foundation of joyful experiences where kids are taught to be successful lifelong learners.
As a result of this effort to develop conscientious scholars, Friends' Central Lower School students are prepared to excel in middle school, high school or upper school, and beyond.
Hands-On, Minds-On Curriculum
It is well known that hands-on, integrated curriculum provides students with a deeper, more meaningful understanding of valuable lessons. At Friends' Central, educators shape the curriculum around experiential learning opportunities that allow students to develop their problem solving skills with real-world applications.
"I never hear a Friends' Central student say 'I don't know why I need to learn this', because they always know the context of the work they're doing and how it's used in the real world," Andrea Lubrano notes. "We are an inquiry based school, and there are intellectual underpinnings with everything that we do. So, we are teaching our students the facts and formulas that they need to know, but then we want them to deploy that knowledge in really interesting ways."
While students come away from the Lower School with the skills and information that they need to move on to middle school, they also develop problem solving skills that are essential to lifelong learning.
At the forefront of the Lower School's dedication to hands-on learning is the emphasis on maker education and our groundbreaking Light Lab. The Ulmer Family Light Lab is a space designed specifically for children in Nursery through grade five complete with four themed maker studios. With access to this space, students are able to learn by doing and design solutions to problems in school, the community, and the world.
Inspiring, Expert Faculty
Finally, families should expect that their children will be in the care of inspiring, expert educators during their time at Friends' Central Lower School. In general, classes are small which allows educators to individualize challenging work for their students and build meaningful relationships.
Due to the individualized attention teachers are able to afford their students, children develop the confidence to speak up for themselves, as well as the skills to effectively communicate their thoughts.
Lower School teachers at Friends' Central are experts at guiding their students' curiosity and empowering them to become passionate learners. Our educators take a playful learning approach in early childhood programs, and a thematic approach in grades three to five in order to unify diverse subject matter in a way that students find interesting and highly engaging. They teach by inspiring and motivating students with rich, diverse lessons in each classroom, every single day.
Joining a Community Where the Roots of Learning Take Hold
Deciding which environment is best suited to your child's specific needs is no easy task, which is why it is so important for families to understand the different options available to them. Now that you know what to expect from Friends' Central Lower School, you should have a clearer picture of whether or not this is the right program for your family.
To learn more about Friends' Central Lower School, families are invited to speak with an admissions counselor or visit the campus to explore all it has to offer. Walk-in Wednesdays are available each week, as well as grade-specific and community-wide open houses throughout the year.