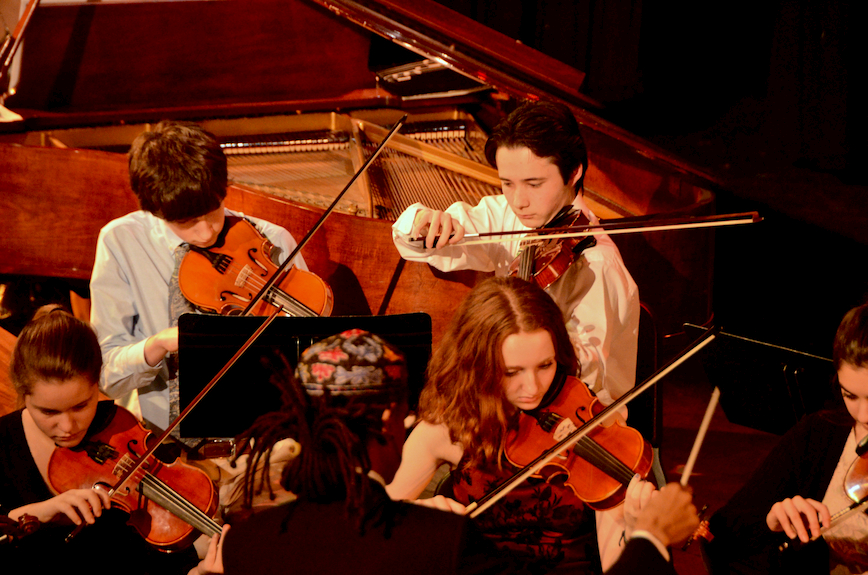 Philadelphia offers several opportunities for kids to stay engaged with learning outside the classroom. Most notably, the Main Line has countless opportunities to expose your child to interactive learning through the arts.
At Friends' Central,
we believe
that art is a universal language that offers unique views into society, history, and the human condition, a fact which has the power to inspire change—both inside a child and in the world around them. We've compiled a list of great family-friendly art venues in the area that can help Main Line parents expose their children to the magical power of the arts and start sparking interest and passion from an early age.
---
Free Downloadable Guide: Take a Closer Look at Friends' Central School

---
Below we explore nine such opportunities, all of which are easily accessible via public transportation.
Theater
Located at 825 Walnut Street, Walnut Street Theatre is often billed as America's oldest theatre, and what an honor it is to be in their backyard. This history makes the Walnut Street Theatre an exciting venue to begin introducing children to the dramatic arts.
The theatre regularly offers many family- and kid-friendly shows each season, as well as content that older children and teenagers might find interesting. Upcoming performances include Shrek: The Musical, Disneys's The Little Mermaid, Grace for President, Nate the Great, and more.
The Arden Theatre, located at 40 N. 2nd Street, is another venue that offers families a tremendous range of performances. They produce a wide arc of stories that are entertaining and are also aimed at encouraging kids' curiosity, creativity, and confidence.
Upcoming Children's Theatre shows include The Snow Queen and The Cat in the Hat, and older children will enjoy classics such as An Iliad, Ragtime, and A Streetcar Named Desire on the mainstage.
The Kimmel Center for the Performing Arts is a rather large venue located at 300 South Broad Street. The sheer size of the venue allows them to offer countless interactive, kid-friendly events, from The Wiggles to favorites such as Baby Shark Live and The Rainbow Fish. Families can also enjoy free events, such as the PNC Grow Up Great Event, which aims introduces kids to the world of jazz and musical theater.
Like the above venues, The Kimmel Center also offers shows that older children and teens might find particularly engaging, ranging from musicals like Hamilton and RENT to film, dance, and more.
Unlike the typical venues that come to mind when thinking of movie theaters, the Bryn Mawr Film Institute (BMFI) is a non-profit movie theater and film education center located in Bryn Mawr, PA. BMFI is dedicated to building community through film culture and maintaining strong connections with the theater's historic cinematic past.
BMFI upholds its mission by hosting movie screenings, special events, guest speakers, and interactive programs that brings together a community built on film culture. Additionally, the Institute offers educational programs such as the Summer Filmmaking Workshop for high schoolers interested in the art of film. Check out their schedule for special kid-friendly screenings of movie classics.
Music
Voted "Best of the Main Line and Western Suburbs" by Main Line Today, the Ardmore Music Hall has hosted concerts for some big bands.
Families can enjoy events for all ages, such as Phish for Kids! Presented by The Rock & Roll Playhouse, introducing the new generation of music lovers to the most iconic musicians in rock history, and more.
The Philadelphia Orchestra creates musical experiences that can be enjoyed by people of all ages and backgrounds, and offers a beautiful venue for parents looking to introduce their children to the joys of live music. Known for its distinctive sound and innovation on and off the stage, the Philadelphia Orchestra provides a meaningful and enjoyable learning experience for the whole family.
Verizon Hall regularly offers Family Concerts designed to grow your kids' imagination and love for music. Productions are "kid-sized" and blend classical music with storytelling in order to create a captivating activity that children will remember for the rest of their lives.
Literature
Children's World Book has been a part of Philadelphia's literary scene for more than three decades. Located at 17 Haverford Station Road, the venue serves as a book store and events venue for all things related to children's literature.
Events include an extraordinary array of visiting authors who come to read from their books and answer questions from the audience, giving children an opportunity to meet their favorite authors and engage with them in a profoundly personal way.
Founded in 1905, Easttown Library and Information Center advances the love of reading and learning through several youth programs throughout the year.
Daily programs include activities for kids of all ages, including Reading with Animals, STEM Challenge, Play K, and Mini Makers. Registration is required for events and programs, and more information can be found at the calendar of events.
Kids ages three and up can watch students bring reading to life with the Summer Reading Theater program July 17-August 7. There is no registration required, as the program aims to bring the community together through this fun series.
For grades 6-8, check out the Library's Novels and Nachos. The program features good books, good discussion, and even better nachos. Registration is required.
Embracing the Arts at Friends' Central School
At Friends' Central, we truly believe that the arts—whether theatre, music, literature, or the visual arts—have the potential to shape a child's life. That is why we offer our students countless opportunities to explore and embrace their creative side.
For students interested in music, the Lower School Rainbow String Ensemble, Middle School Chorus, and various Upper School bands offer opportunities to grow as musicians and performers. Those interested in theatre and drama are given the opportunity to perform in classroom performances which often tie into students' academic studies for the year, or division-wide plays which are part of the drama program.
Learn more about how Friends' Central's philosophy towards the arts can help your child learn and grow!