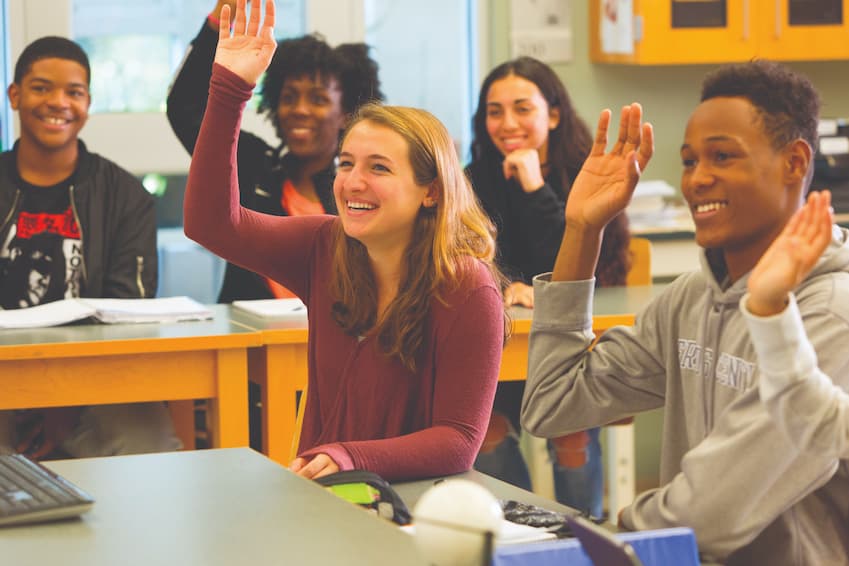 Joining the Friends' Central School community is more than just enrolling in a high school or college preparatory program. Our Upper School pairs challenging academics with innovative teaching philosophies to instill learners with the skills needed to succeed.
Are you considering Friends' Central Upper School for your child's high school years? Here we offer a closer look at what you can expect by joining the Friends' Central School Community.
1. Teachers Who Make a Difference
Educators at Friends' Central create an innovative and welcoming environment that encourages the free exchange of ideas and facilitates thoughtful conversation. By upholding a strong framework of respect, they encourage active listening to welcome the diverse perspectives of students. Friends' Central teaches model an understanding that all everyone's learning advances when all members of the classroom contribute ideas.
---
Learn More About Our Upper School By Downloading Our Brochure
---
Not only do our teachers and faculty care about students' intellectual achievements, they also place value on their individual interests, character, and well-being. The Upper School faculty understand that becoming a well-rounded and effective member of society takes more than just good grades and impressive test scores; it requires ongoing nurturing of the whole student throughout the learning process.
Friends' Central students and families can expect our teachers to strive to make a difference in students' lives so that they in turn may make an impact on the greater community.
2. Compelling and Engaging Curriculum
The Upper School curriculum is designed to encourage students to ask questions and engage actively in their learning, rather than memorizing facts and figures. Our students learn to think deeply and creatively solve problems, and they are capable of expressing their thoughts clearly and with confidence.
"Friends' Central classrooms promote independent thought, the courage to voice opinions, and the expectation that students and teachers will listen to and value one another's opinions," says Beth Johnson, Upper School Principal. "When our students graduate and head off to college, they are ready—ready to participate fully, to engage with their professors, and to present their ideas with confidence."
In addition to advanced college preparatory courses, Friends' Central School offers myriad opportunities for students to follow their own academic passions. Core classes in English, history, mathematics, science, arts, and world language promote independent thought in critical learning areas, while a variety of elective offerings allow students to develop their academic interests and build interdisciplinary skills.
3. An Approach That Builds Accountability and Leadership
The Upper School's approach to education and culture of high expectations pushes students to take responsibility for their learning. Students are faced with challenging, yet rewarding, assignments that instill a sense of responsibility in the learner's own education. As such, students are empowered to take charge of their education.
Leadership opportunities like clubs, student council, community service, athletics, and arts also give students the chance to become leaders both inside and outside of the classroom. Teachers, coaches, and mentors make it a priority to inspire tomorrow's leaders by responding to questions and ideas positively and teaching students that they can lead and affect real change.
4. Values That Shape Our School Culture
Both school life and curriculum at Friends' Central School are shaped by the values of the Religious Society of Friends. This founding philosophy plays a key role in the way teachers and students approach daily learning activities.
For example, at every level of a Friends' Central education, teachers promote a commitment to learning through inquiry, reflection, action, and discovery. Our culture of ongoing intellectual growth is drawn from the Quaker belief in Continuing Revelation and is shaped by teachers who recognize the importance of their own ongoing learning, and model this openness for their students.
Other Quaker principles that guide daily life at Friends' Central School include simplicity, peace, integrity, community, equality, and stewardship. For example, service learning initiatives embody several of these principles and is a central component of the Upper School program.
Upper School students and faculty spend five full days participating in community service activities throughout the greater Philadelphia area each year. As a whole, this equates to more than 10,000 hours dedicated to service learning annually.
Many of these service projects introduce students to situations they may not otherwise experience. This community engagement opens the way for learning, empathy, and compassion. Service learning broadens students' skills as they interact with different perspectives on the local, national, and global level, while cultivating the skills and understanding of world problems needed to affect social change. Many students participate in additional service projects throughout the year.
5. Preparation For Success in College and Beyond
In addition to rigorous academics that challenge students to think critically, Friends' Central School provides expert college admissions counseling to students and their families to help prepare for the journey of higher education.
Friends' Central Upper School's emphasis on lifelong learning equips students with the tools and knowledge to continue their education beyond our classrooms. Our admissions counseling team acts as supportive and thoughtful advocates for each student throughout the college admissions process.
"Friends' Central's Upper School provides an exceptional college preparatory program in an atmosphere that sets the highest of academic and personal standards," says Johnson. "It is, in essence, an education with a two-part focus. It is high-level, challenging, and intellectual; and it is also about intentionally cultivating a set of skills, attributes, and values within students."
At each grade level, the program puts emphasis on different areas such as identifying students' academic interests, preparing for standardized testing, and completing the application and financial aid process.
Learning shouldn't end after a student graduates from high school college after that, however. The skills that our students develop throughout the Upper School program prepares them for a journey of life-long education as well-rounded members of society.
"At Friends' Central, students learn a body of knowledge, essential skills, and importantly, they learn to own their own learning," says Johnson. "The discoveries they make, the companies they lead, and all that they create will rely on them as individuals and as team members. They have to be ready to trust themselves to lead, and we begin that process here at Friends' Central School."
Join the Friends' Central Community
Now that you know what to expect from an education at Friends' Central Upper School, you should have a clearer picture of whether joining our community is the right fit for you or your family.
If you're considering taking the next step, you can start by speaking with an admissions counselor to address any questions you have. You can also visit the campus and take a tour to better understand our culture and community.