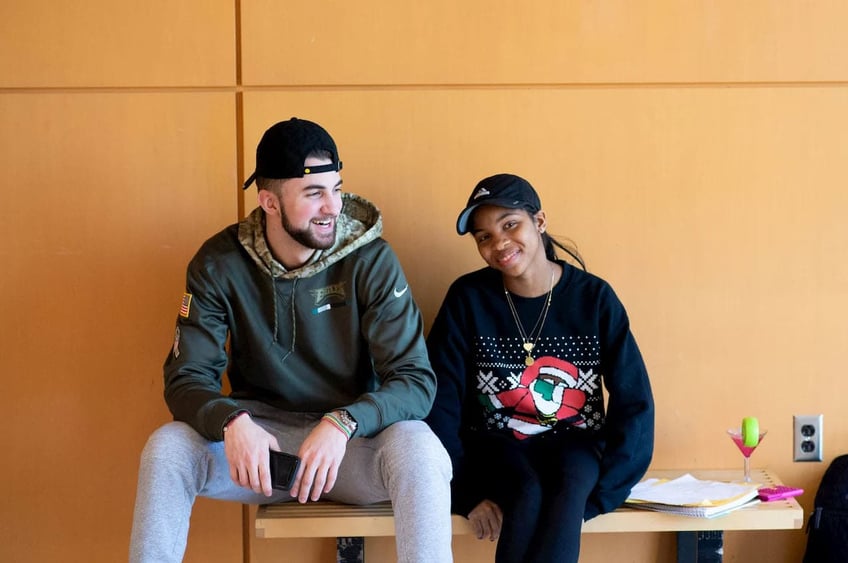 For students, the pressure to start planning for college has continued to increase over recent years. As a result, many teens feel pressured to begin navigating the college admissions process earlier than they need to.
Are you starting to wonder whether or not you should be planning for college? Here, we offer some advice to help you guide your journey.
When to Start Thinking About College
Start by thinking about your long term educational goals and building the foundations you'll need to achieve them in your early high school years, or sooner. By thinking about your long term goals early on, you can start building the skills and habits you'll need to be successful in college and beyond.
---
Learn More About Our Upper School By Downloading Our Brochure

---
Although some people might tell you to start in middle school, active planning for college can wait until the middle of a student's high school experience.
How to Prepare for College in High School
1. Choose classes that challenge you.
Planning for college early on can give you an opportunity to choose classes that challenge you and that align with your future academic aspirations. Along with the expectation that you've completed the basic course requirements, admissions teams also want to see that you've taken classes that have challenged you and prepared you for college.
With this in mind, though, it is important to remember that in your early high school years you should not be making these decisions solely for the purpose of getting into college. Instead, you should choose to take classes that you are actually interested in and focus on your growth and development.
Additionally, choosing challenging classes can also help you develop the organizational skills and study habits that are vital at the college level.
2. Pursue extracurricular activities.
On top of academics, extracurricular activities are, of course, important to college admissions teams. For college admissions teams, participation in extracurriculars demonstrates underlying traits about your character.
Students should choose to participate in extracurriculars not strictly for the purpose of getting into college, but rather to experience personal growth and to develop skills like leadership and responsibility that are needed in college.
When it comes to choosing the extracurricular activities you want to get involved in, it's important to remember that depth is more valuable than breadth. That is, admissions teams want to see that you have demonstrated a commitment to your chosen activities, the contributions you have made, and how it has affected you as a person.
As always, you should also choose the activities that you are actually interested in, instead of the ones you think will stand out on your application. After all, the most valuable aspect of participating in extracurriculars is the personal development that they've helped you achieve.
3. Look for leadership opportunities.
Joining clubs and organizations early on in high school allows you to begin building the relationships and skills that you'll need to move into leadership roles later on. Taking on these leadership positions can help you learn how to navigate challenging situations and build strong communication skills.
As a high school student, you have countless opportunities to develop leadership skills that will help you stand out in the college application process and prepare you for success later in life. Extracurricular activities like clubs and sports teams, as well as volunteering opportunities are great ways to get involved.
4. Develop your skills
Your high school years are meant to instill you with the knowledge and skills needed to enter the adult world. From this learning, students often find their niche—the area that they may want to study in the future and eventually build their career in.
But, high school should also be a time to focus on the foundational skills that are essential not only for higher education, but for life in general. Among these skills are strong communication, organization, leadership, critical thinking, and many more. Mastering these skills throughout your high school experience will certainly come in handy when applying and transitioning to college.
5. Visit college campuses.
As mentioned previously, the early high school years should be focused on laying the groundwork of skills and knowledge that you'll need when it comes time to apply for college. However, making casual visits to college campuses at this time can prove to be helpful.
The benefit of visiting college campuses early is that you can do it when you are not in a hurry or balancing other commitments. For example, if you happen to go on a vacation, it might be a good time to visit colleges in the area rather than when you're getting ready for finals or working on a big project.
Hit the Ground Running
While life your early high school years should not be consumed with the college planning process, it can certainly be beneficial to begin thinking about your long-term goals at this time. Doing so will help you focus on developing strong study habits, academic engagement, and social skills that will ultimately prepare you for college.
Choosing a high school that can support you on your journey towards your academic goals is an important, and sometimes overlooked piece of this planning process. Having access to challenging, yet rewarding curriculum and meaningful extracurriculars is just one of many factors. Having a positive school culture and strong college counseling are also characteristics of a high school that can prepare you to succeed.
Attending the right high school is an important aspect of the planning process that can allow you to hit the ground running when it comes time to apply to colleges. The right school will help you build the skills and knowledge you will need to be successful in college and beyond.