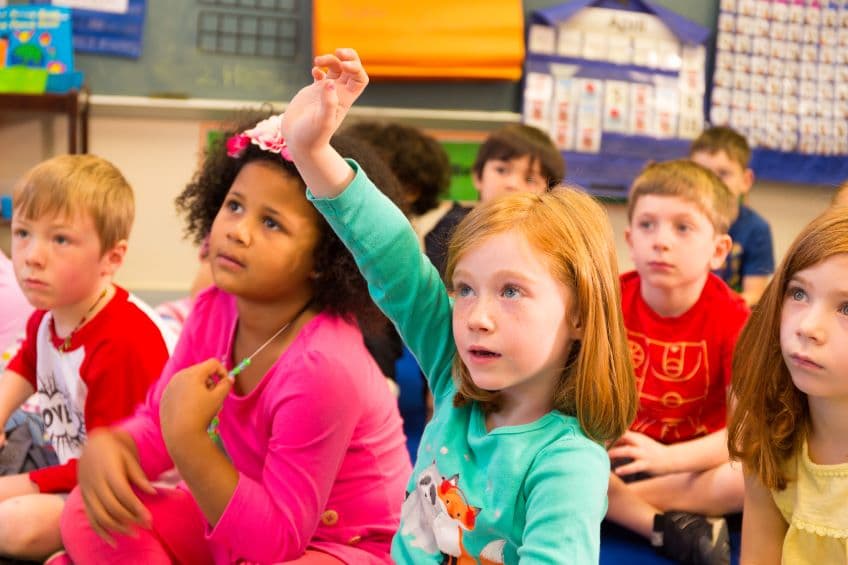 As the parent of a young child, you undoubtedly have a long list of hopes and dreams for your child.
You want your children to be happy and healthy, to have meaningful friendships and relationships, to be challenged, and to succeed in everything that they put their minds to. You want their days to be filled with laughter. You want them to face the world each morning excited to write a new story in the book of their life. You want them to understand their innate potential to do great things and change the world.
---
Want to learn more about Friends' Central early childhood education programs? Get the free guide!

---
Simply put, you want your children to grow into good people, and to surround themselves with other good people. But how, exactly, can you help to facilitate this for them? And how early is too early to address such a complicated subject?
It is our belief that it's never too early to begin teaching your children to be thoughtful, caring people. Though such a topic may seem philosophical in nature, and perhaps above the heads of young children, being a good person is at its heart the same as being a good friend—and it is not uncommon for children to surprise their parents with what they are capable of understanding.
Below, we outline five key values that parents should aim to teach their children from a young age, and offer advice and tips to help you do just that.
Values to Teach Your Children
1. Community
Developing a sense of community pride from an early age doesn't just help a child feel accepted. By teaching your child that they fit into a broader community (their school, their church, their neighborhood, or their family), you help them understand that they are a part of something greater than themselves; that the actions of others can have an impact on them—and that their own actions can have an impact on others. It can also help your child become a more considerate, compassionate, and loving individual.
2. Honesty
Telling the truth isn't always easy. It can be awkward. It can lead to uncomfortable consequences, such as getting in trouble for something that you did. But it is also so incredibly important, and the cornerstone of building authentic relationships. Honesty shows that you respect the other person enough to tell them the truth, even if you would prefer not to; it demonstrates an unwillingness to lie and trick.
Children should learn from an early age that lying has consequences, sometimes unintended, and that it can hurt the people that they care about.
3. Integrity
Honesty and integrity are often misunderstood to refer to the same characteristic, but they are in fact distinct virtues. While honesty refers to the act of being truthful in your words and actions, integrity refers to the soundness of one's character and a willingness to stick to one's own principles. An honest person tells the truth; a person with integrity does the right thing no matter how difficult it is or whether it will bring them any kind of benefit. Both are very important.
4. Justice
Justice has different meanings depending on the context in which the term is used, and this can cause some parents to be nervous about explaining the concept to their child. But at its core, it's very simple. For young children, beginning with treating everyone with fairness and respect; understanding that no one voice is more important than any other, and that each idea, voice, and perspective should be valued equally is a great start! This strong beginning will help them grow into an understanding of justice as the foundation of a healthy community; where every person's value is recognized and where all people have access to the structures and resources they need to grow into their full and best selves.
5. Inquiry
Inquiry refers to that innate sense of curiosity and creativity that each of us is born with. It refers to our drive to ask questions, seek answers, and construct knowledge. It refers to an inability to accept something at face value and a desire to validate things through your own discovery. Inquiry is an essential quality to instill in our children not just for the benefits that it brings academically, but for its ability to spark growth, change, and personal development.
Shaping Your Child's Values Through Education
In order for your child to truly come to learn and embrace these values, they must be empowered to live them every day.
At home, parents can serve as an excellent example of how these values can be embodied in daily life. But children do not spend all of their time at home; they also spend a substantial amount of time at school (or preschool). This is why it is so critical that, when parents are evaluating potential school options for their child, they select a school which aligns with the values that are important to them.
At Friends' Central School, our mission is to cultivate the intellectual, spiritual, and ethical promise of our students. We do this by embracing key principles—Simplicity, Peace, Integrity, Community, Equality, Stewardship—and allowing them to guide our academic philosophy. Every class, every activity, every assignment, and every interaction is designed to empower our students to grow into the good, strong people that we know them to be at heart.
If you are in the Philadelphia area and want to learn more about how a Friends' Central education can help your child grow into an ethical and caring person, you can start your journey by speaking with an admissions counselor, who will happily answer any questions that you might have. Similarly, you can also visit our campus and take a tour to better understand our culture and community, and learn what sets us apart.