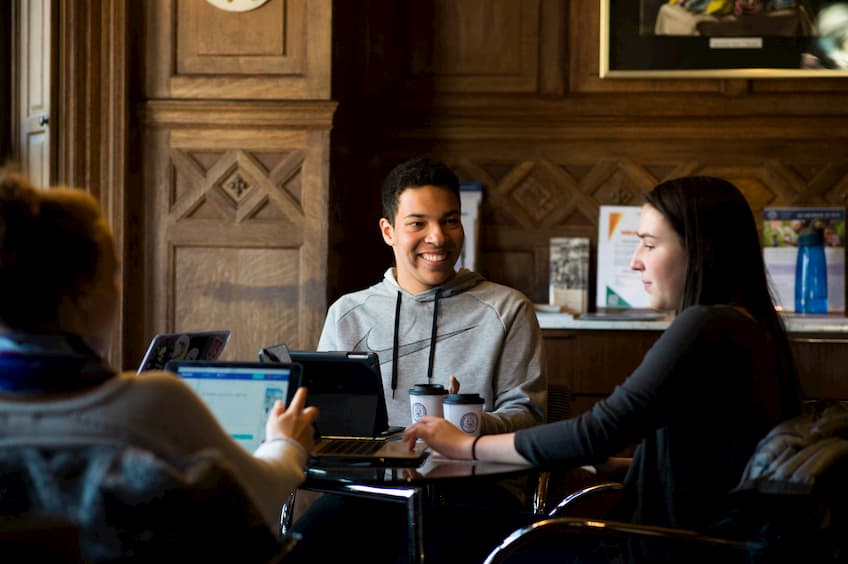 If you are considering an independent school education for your child, then you may have concerns related to whether or not your family will be able to afford the cost. This worry can cause many families to completely write off the private or independent school option for their child.
But contrary to popular belief, families have many options available to help them afford a private school education for their families. Scholarships, financial aid, and tuition assistance can all bring an independent school education within the realm of possibility for your child.
---
Free Downloadable Guide: Take a Closer Look at Friends Central School

---
Unsure of exactly what these terms all mean, and how they are different from each other? Below, we define scholarships, financial aid, and tuition assistance so that you can better understand the different ways in which they can help, and also offer a look at financial aid at Friends' Central School.
How to Pay for an Independent School
1. Financial Aid
Financial aid is a fairly broad term which may mean different things to different people or to different schools. Typically, "financial aid" is used to refer to any form of aid which might be available to help a family afford tuition. It encompasses scholarships and tuition assistance, which we discuss below. Financial aid is generally understood to be need-based. It also might encompass options such as:
Tuition payment plans, which allow parents to make smaller tuition payments throughout the year instead of a single lump sum payment all at once. These plans are offered at the discretion of the school.
Sibling discounts, which can make it easier for families with multiple children to attend the same school. Like tuition payment plans, these discounts are offered at the discretion of the school.
Loans, which typically originate from a private lender but which can be used to make tuition payments. Loans must be repaid, with principal, according to the terms of the loan agreement.
2. Scholarships
A scholarship is a reward of money that does not need to be repaid. Once it is awarded to a student or family, it is typically considered "free" money, which can make them incredibly helpful. A scholarship may be need-based (it is tied to a student's financial situation) or merit-based (it is tied in some way to performance, whether academic or otherwise).
Scholarships can come from a variety of sources. Many states and cities offer scholarships to their residents (click here for a list of scholarships and grants available to Philadelphia families), for example. Similarly many schools offer scholarships directly to current and prospective students. For example, at Friends' Central, families can apply for the Wynnefield Scholar Program, a need-based scholarship available to new students entering grades 6 through 9.
3. Tuition Assistance
Tuition assistance is a third kind of aid which is typically offered to students and families on a case-by-case basis. Tied to a family's ability to pay for tuition, tuition assistance is a need-based aid offered to families in the form of grants. This money typically does not need to be repaid.
Tuition assistance is typically dispersed on a first-come, first-served basis. Depending on the specific school, it may be one-time or it may recur annually.
What financial aid should you accept?
If you're offered a range of financial aid options, it can be difficult to know what you should accept, what you should turn down, and the order in which you should accept aid. While the exact answer to this question will depend on your family's unique financial situation, there are a few general rules that you should follow:
Start with the free money: You should always accept tuition assistance, scholarships, and grants first, because this is money that your family typically does not need to repay.
Look at tuition payment plans next: If opting into a tuition repayment plan would make it easier to pay for tuition, consider this your next best bet.
Turn to loans last:

While tuition loans can be helpful, it is important to remember that the principal must be repaid, and that you will also be responsible for making interest payments. Only take out loans for your child's education if you have no other options, and be sure to borrow only as much as is absolutely necessary.
Financial Aid at Friends' Central School
Are you curious about the different forms of financial aid and tuition assistance available for students and families enrolled at Friends' Central School? Our students and families have many options to make tuition more affordable.
We offer our families three different tuition payment plans so that they can choose the best option that falls within their budget. Those who pay in full by June 15 are eligible to receive a one-percent discount. Otherwise, parents may split payments:
Paying two-thirds by July 15, with the final third of tuition due on January 1
Making ten monthly installments
At FCS, we take pride in our commitment to economic diversity. That is why we offer tuition assistance and funding to talented applicants with limited financial needs. Unfortunately, however, the demand for tuition assistance typically exceeds the funding available each year, which means that not all students offered admission will be awarded a grant. Tuition assistance is distributed on a first-come, first-served basis, so we encourage applicants to apply as early as possible to ensure they are considered for funding.
Similarly, as mentioned above, families can apply for the Wynnefield Scholar Program, a need-based scholarship available to new students entering grades 6 through 9. The scholarship will provide up to 100% of the student's demonstrated financial need. It is renewable each year of the student's career at Friends' Central School as long as the student maintains excellent academic performance and citizenship and financial need remains.
Just because an independent school education involves tuition payments does not mean that it is out of reach for you and your family. Many different forms of financial aid can be used to ease the burden.