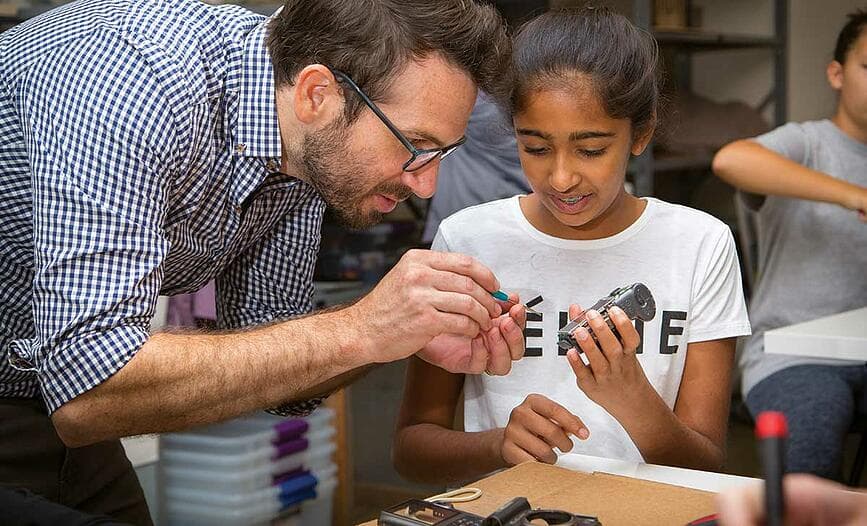 If you're looking for new and exciting ways to help your child embrace hands-on learning and exploration, a makerspace offers you the opportunity to do just that.
Not sure what a makerspace is? A makerspace is a special kind of workshop where a person can go to create things. Often, makerspaces are collaborative in nature, allowing people to work alongside others who are completing their own projects. Because of the self-directed nature of the setting, it's possible to see, for example, someone building a robot in between one person who is crocheting and another person who is coding.
---
Free Downloadable Guide: Take a Closer Look At Friends' Central
---
Are you interested in checking out a makerspace for your child? Below we list some great kid-friendly makerspaces in the Philadelphia area that you can consider for your child.
Kid-friendly Makerspaces in Philadelphia
1. Philly Makerhouse
Located at 3237 Amber Street in Philadelphia (just 12 miles from Wynnewood), Philly Makerhouse is makerspace focused on woodworking craft and arts. Their mission is to provide a fun, safe environment where everyone from woodworking beginners to die-hard aficionados can come together to build.
With offers that include hands-on classes and shop memberships for any student, regardless of prior woodshop experience, this is a perfect makerspace for a student interested in working with hand or power tools. The staff at Philly Makerhouse will teach students how to properly and safely use required power tools and all participants are required to take a safety class first.
Philly Makerhouse also has digital fabrication tools for any child interested in computers and woodshop. Though the focus at Philly Makerhouse is woodwork, they also offer projects and workshops with acrylics, nonferrous metals, and more.
2. NextFab
With two locations within 10 miles of Wynnewood, NextFab offers a network of membership-based makerspaces providing members with access to tools, technology, education, and services. They cater to makers of any skill level, from absolute beginners to those who are more experienced.
Classes are offered for both members and non-members alike, and can provide a springboard for your child to learn new skills in a unique environment.
NextFab offers several "departments," including 2D printing and photography, 3D printing and scanning, design software, electronics, jewelry, laser cutting and engraving, metalworking, textiles, and woodworking. A full list of classes with details including fees, length, and location can be found here.
If your child is interested in digital making or design software, NextFab offers some introductory classes for certain technologies for non-members and spots can be reserved on class calendars. Additionally, non-members are required to pay an additional studio access fee of $50 for paid classes and will not have access to software or the facility at any time other than during class.
3. Hive 76
If your child wants to learn more about community involvement and collaboration, Hive 76 might be the perfect fit. This 'hackerspace' consists of artists, engineers, makers, and inventors who all work within a collective space. The projects that members work on there tend to be rather technical in nature, and they have an extensive list of tools—including laser cutters, multi-function printers, and soldering stations—that will please any tech-obsessed teen or middle schooler.
Non-members are welcome to attend their weekly open houses, which occur every Wednesday night from 8pm to 11pm. During these open houses, visitors can work on projects and collaborate with current members about design challenges and goals.
Memberships start at $15 a month, perfect for students just starting out. Classes are also occasionally offered that dive deeper into a particular project or subject matter.
4. Seaport Museum
The historic Seaport Museum offers countless learning opportunities for students along the Main Line. Their makerspace is a perfect resource for kids looking to gain more hands-on STEAM experience.
The Museum's makerspace provides students with state-of-the-art equipment including 3D printers, a CNC router, laser cutter, and laser engravers. With a convenient location at the front of the museum just 9 miles from Wynnewood, your child has an easy access to learn about the engineering and design-focused community programming offered through the Makerspace.
Programs take place throughout the year. Summertime features the Seaport Summer Camp, where participating students experience a themed lesson each Friday and learn about different tools and equipment while completing projects. This Fall, girls enrolled in the Eagle Stem Mentorship Program will have the opportunity to meet weekly and work on robotics-themed projects (specifically, an underwater ROV).
5. Philadelphia Mini Maker Faire
The Philadelphia Mini Maker Faire is a family-friendly showcase of invention, creativity, and resourcefulness. The annual event offers an outstanding opportunity for students of all levels to come together and celebrate their latest projects while sharing innovation, design, and creative skills with other makers.
Despite occurring only once a year, this event provides an excellent opportunity for your child to network and learn from some of the industry's best and brightest local innovators. The Pennovation Center—located less than 8 miles from Wynnewood—hosts the event.
Student makers are always needed, and are encouraged to participate each year.
Consider Enrolling Your Child in a School with a Makerspace
Makerspaces can be incredible resources for parents interested in introducing their child to hands-on STEM exploration and learning, but they are not the only option available.
An alternative to enrolling your child in a maker program at a makerspace is to enroll them in a school that has a makerspace, and which incorporates the maker ideology into its philosophy and curriculum. In addition to providing ready access to tools and materials, this also gives students the opportunity to practice their maker skills on a daily basis.
The Friends' Central Makerspace
At Friends' Central School, we believe in an educational environment that includes complex questions that challenges our students to investigate, explore, and grow. These 'queries' guide our thoughts and actions while empowering everyone to contribute to the work of peacefully transforming the world. We view the process of learning as a collaborative experience, where individual students are responsible for creating their own knowledge.
It is no surprise, then, that our philosophy aligns so closely with the Maker ideology. That is why both our Lower School and Upper School include makerspace facilities, which play key roles in the education of our students.