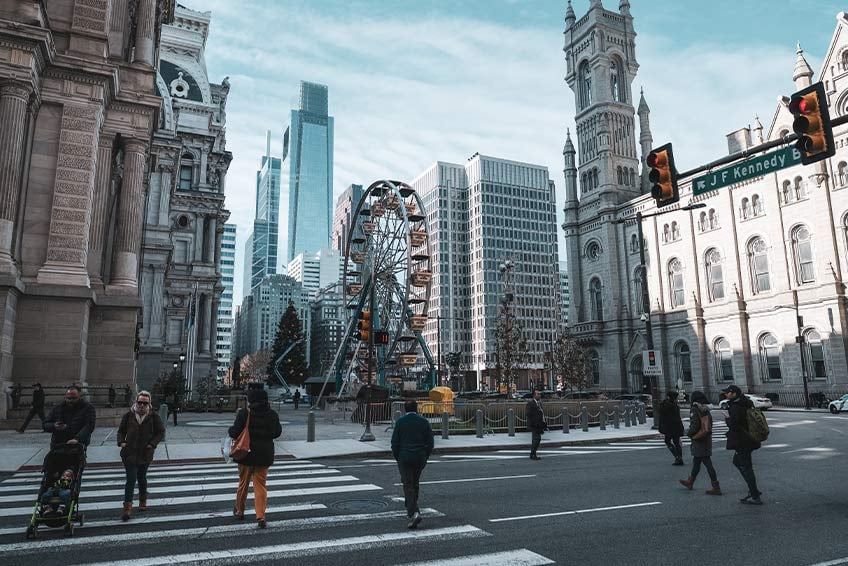 If you're considering relocating to Philadelphia or are in the process of planning your move, you likely have a lot of questions.
Is this the right city for my family? What is the area like? Is Center City a good place to raise a family? How should I prepare for my move? Etc.
As with any move, familiarizing yourself and your family with a new place can sometimes feel overwhelming. Fortunately, Philadelphia and the surrounding area is a wonderful place to start an exciting new chapter for your family.
---
Free Downloadable Guide: Take a Closer Look at Friends' Central School
---
Below is a closer look at Center City Philadelphia, what it's like to live in the area, and some general information to help you prepare for your move.
Getting to Know Center City
If you are considering moving to Center City and raising your family there, it's important to get your bearings and understand the different neighborhoods and communities that comprise the area. This will help you see the value that living in the area has to offer.
Center City encompasses the heart of Philadelphia, or the true "downtown" area of the city. It stretches from the Schuylkill River in the west to the Delaware River in the east and covers the rectangular expanse of land that was originally established as Philadelphia by William Penn in 1682. As the city grew to be the large metropolitan area as we now know it, this historic downtown area became known as Center City.
Center City is also broken up into several individual neighborhoods like Chinatown, Logan Square, Rittenhouse Square, and Old City, among others. It is generally known as a very walkable city, however the community also enjoys an extensive and reliable public transportation system including the SEPTA and PHLASH subway, trolley, and bus lines.
Living and Raising a Family in Center City
Like many cities, Center City Philadelphia is known as a great place to live for young adults and working professionals. There are, however, some things that make Philadelphia unique when compared to other large cities.
For example, individuals who move to Philadelphia from New York often marvel at just how much more "home" you can buy for the same amount of money. As just one point of comparison, what in Manhattan might only get you a studio, in Center City can get you a full apartment. This makes it much more affordable to raise your family in the area, allowing them to take advantage of all of the amazing opportunities and resources that Philadelphia has to offer.
Entertainment and Activities
One of the main draws of the city is that it offers so much in terms of entertainment and activities. There is simply so much to do, making it easy for families to expose their children to culture and ideas that will open their minds and keep them growing.
Within the city limits, you will find national historical landmarks such as Independence Hall and the Liberty Bell, among others. This provides a sense of "living with history" that can have a lasting impact on children, especially young children, that they will carry with them for the rest of their lives. And of course the city is also the home to many world-renowned museums, such as the Philadelphia Museum of Art and the Academy of Natural Sciences, both of which feature children's programs.
When it comes to enjoying nature, Center City has an extensive park system—one of the largest in the nation. At more than 2,000 acres along the Schuylkill River, Fairmount Park sits as the crown jewel of this network, but a further 58 parks, plazas, and parkways dot the city and ensure that you're never too far from a day in nature.
If you're craving a break from City life, the city's neighboring communities, such as those that make up the Philadelphia Main Line, also have a lot to offer. In fact, one of the greatest advantages of living in Center City is the ability to enjoy the benefits of city living—business and career opportunities, the vast city park system, abundant entertainment options, and rich cultural experiences—while also having easy access to nearby towns.
Some ideas of things you can do along the Main Line with your children include:
Culture and Community
As a historic and bustling area, Center City is rich with culture and diversity. In fact, it is the second most densely populated metropolitan area in the United States, beat only by Midtown Manhattan in New York.
Although Center City is undoubtedly an urban environment, it is characterized by a sense of local pride in which community is highly valued. Families moving to the city will find that adults and children alike are met with many opportunities to get involved with the community and build a network of meaningful relationships.
Education
For those moving to the city with children, education is naturally an important consideration. In addition to a quality public school system, families living in Center City have the added benefit of a number of private school options, both within the city proper and the surrounding location. The luxury of having many options close by ensures that you are able to find a school that meets your child's specific needs while aligning with your family's values.
Friends' Central School, for example, is an independent, coeducational school providing rigorous and engaging academic programs for students in Nursery through grade 12. With two campuses in the Philadelphia suburbs—the Lower School campus near the heart of Wynnewood and Middle and Upper school campus just outside of West Philadelphia in Wynnewood—it is easily accessible for families residing in Center City.
While it may not be possible to visit campuses in person, either due to the Covid-19 pandemic or due to restraints during the moving process, there are still many ways to thoroughly evaluate your options. Many schools, including Friends' Central, are now offering virtual campus tours and information sessions, for instance.
Calling Center City Philadelphia Home
If you're not already convinced that Center City Philadelphia is a great place to live, there are plenty of opportunities to explore all that the city has to offer. Consider organizing a trip to the area to get familiar with the neighborhood and experience the culture.
If you're already planning to move or Center City sounds like it is a good fit for your family, congratulations! There are many exciting steps ahead from deciding where you'll live, to settling into your new home, and more.
When moving your family to a new location, finding a school that meets your child's needs and aligns with your values is a critical step in making your new home feel welcoming. Take a closer look at Friends' Central School to discover how our programs are designed to go further in everything we do, empowering our students to be successful in all aspects of life.