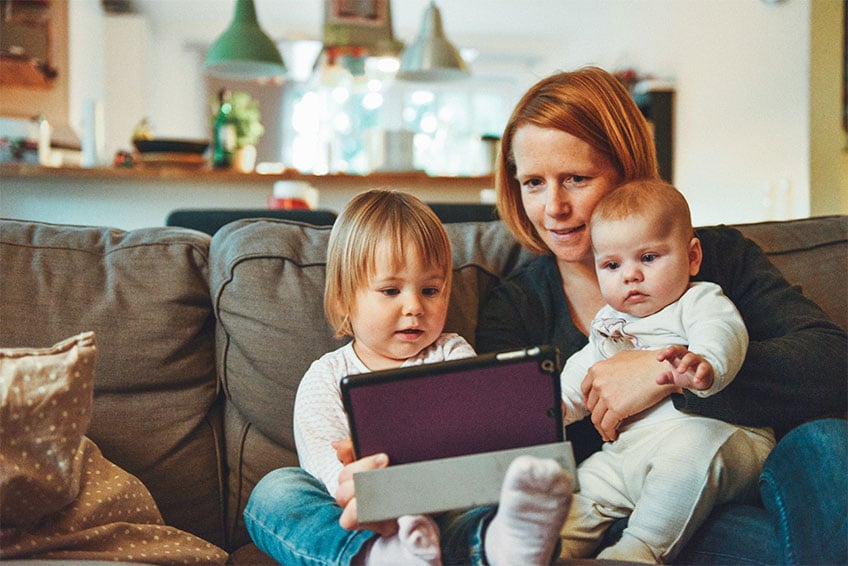 With the fall nearly behind us and many families looking ahead to the winter and spring months, it's important to recognize that the COVID-19 pandemic continues to change the ways families live and learn.
The lockdown and various other social distancing measures last spring forced learning into a fully remote format, at least for a time, and even now many schools have embraced a hybrid model of in-person and at-home learning.
While this has had an obvious impact on the learning process, it's also had a less obvious impact on families who are considering making a switch by enrolling their child in a new school: How do you evaluate the different schools you are considering when you can't always visit the campus in person?
---
Free Downloadable Guide: Take a Closer Look at Friends' Central School
---
The good news is that, while the process of visiting and evaluating schools is undoubtedly different this year, it's still possible to gather all of the information you need to make an informed decision. Below are a number of options you should consider.
Evaluating Schools When You Can't Tour In Person
1. Research the school's website.
In this time of social distancing, school websites are more important than ever, and should be one of your first stops as you begin your school search. In addition to general information about classes and events, school websites often provide an overview of the school's mission, vision, and a more in-depth look at its values and culture. Each of these can help you better understand whether or not your child is a good academic fit for the School and if your family shares the school's values.

Many school websites also offer sections specifically geared towards prospective families who are looking for information to inform their application process. Look for pages like:
Be sure to pay special attention to the language used throughout the website. This can often give a great idea of the culture and values that are truly at the center of each school's programs.
2. Browse ratings and reviews.
We leverage ratings and reviews to inform us about every other decision that we make in life, whether we are considering purchasing a car, a phone, or even visiting a restaurant. They can also be incredibly helpful for getting a quick overview of the schools that you are considering, especially early on in your research process.

While a simple Google search can be a great place to start, there are also websites dedicated specifically to rating schools, which can make the process easier for families by compiling reviews in one place. Platforms like Niche and Great Schools are great starting points and have a lot of important information to review before narrowing down your search.

These sites often compile information gained from reviews and separate them into graded categories from Academics, Activities and Sports, to Teaching Staff, Diversity and College Prep. Searchers can sort through comments from parents and students alike, and can even get an idea of important cultural elements such as support for learning differences, and bullying policies.
3. Talk to other parents and families.
Often, families need look no further than their own contact list in order to learn more about the schools they are considering. Your friends, family, colleagues and other parents in your social group can offer direct, first-hand insights about a school you are considering—especially if their child attends or previously attended the school.

Look through your contact list and find parents that you know share the same values and goals as you. Then, simply ask them for their honest opinion. In addition to asking about their general opinion, don't be afraid to ask specific questions. For example, you might ask:
How involved did the school expect you to be in your child's education?
What was communication like with the administration?
How were conflicts addressed?
Etc.
4. Attend a virtual admissions event.
While COVID-19 continues to keep people apart, many schools have adapted their admissions practices to include virtual school tours, virtual town halls where parents can ask questions and receive answers in an open forum, and virtual open houses. These formats allow families to "tour" their prospective schools from the comfort, and safety, of their own homes.

Often, this virtual format can be beneficial to families, as they can be thoughtful with the time they have and come prepared with the questions that are most important to them. To determine if a school is the right fit for their child, parents should ask meaningful questions, such as:
What is your school's approach to distance learning, and what resources are offered to students and families as they learn online?
Does your school have a future plan(s) in place for potential continued remote learning?
What does the admissions process look like now that learning is done remotely?
Keep an eye on the virtual offerings from your prospective school and take advantage of all online tours and information sessions. Typically, the Admissions page of a school website is a great place to start.
5. Speak with the admissions team.
As you're narrowing down your school choices, don't hesitate to reach out to your school's admissions team for their insights, suggestions, and answers to all your questions. This point of contact helps families build relationships and connections with their young learner's prospective school, even while they cannot connect in person.

Each member of the admissions team will have a different background, area of expertise, and unique point of view on what makes their school the right choice for your child, so talking to a number of different individuals at the school can be a great way of getting a balanced picture. Don't hesitate to ask the admission team to connect you to a division principal if that connection would be helpful.
6. Ask about an outdoor-only, in-person tour.
Naturally, most schools will shy away from in-person classroom tours out of an abundance of caution: They don't want to risk introducing the virus to their facilities and existing community members. That being said, some schools—like Friends' Central—offer a limited number of in-person, outdoor only tours for families who are seriously considering attending.

While these tours aren't quite the same as one that would allow you to observe a classroom in action and inspect specific facilities, they can still be a valuable opportunity for families to meet faculty and staff and ask questions about the school. If you don't see such opportunities advertised on the school's website, simply ask a member of the admissions staff if it would be possible.
The New Normal
While COVID-19 has changed the look of education for children around the world, there are many schools that have risen to the challenge and developed strong, thoughtful programs that keep young learners engaged and safe. Though the days of touring these schools in person may be on pause, families can do a great deal of meaningful research and find ways to engage with these schools remotely.

It's important to remember that everyone is in this "new normal" together, and parents should be sure to do their research, ask questions, and keep an open mind as they explore their child's remote educational future.