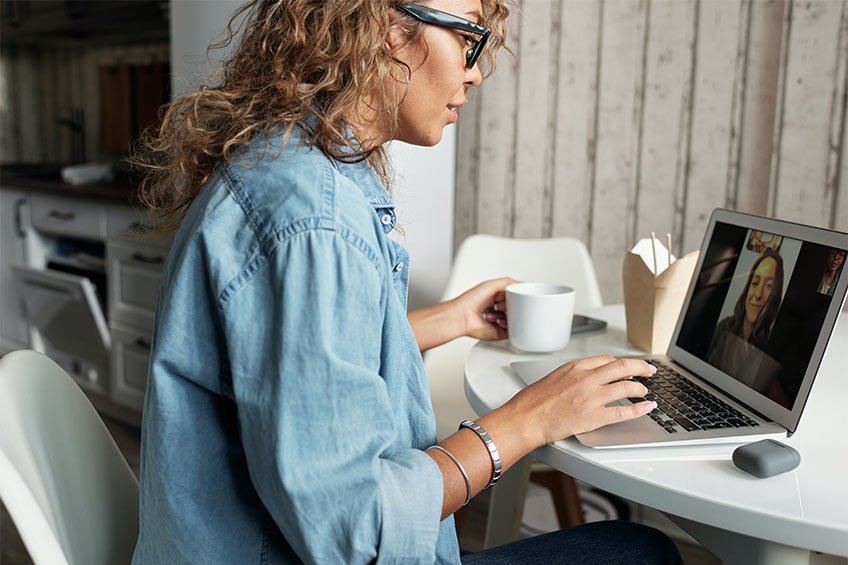 The COVID-19 pandemic has impacted nearly every aspect of schooling, including the admissions process. Gone are the days where the first interactions with an admissions team for a school they are interested in is in-person: At a school fair or on a tour. Now, due to social distancing, some of your family's first interactions with admissions teams are likely to be online, in the form of a virtual tour, open house, or information session.
---
Free Downloadable Guide: A Parent's Guide to School During the Pandemic
---
In order to get the most out of these online sessions, it's important to come prepared so that you can ask meaningful questions and learn more about the school to decide if it is the right fit for your family.
Questions to Ask in a Virtual Info Session
1. How is your school currently approaching distance learning?
It's no secret that this global health crisis has forced schools to rethink the way that they operate; however, the responses to this crisis have varied widely. Each school, whether public, private, or independent, has been tasked with evaluating their available resources and responding to unprecedented circumstances in a very short window of time. Naturally, some schools were more prepared than others.
A virtual school tour or information session is a great time to learn more about that school's response to the situation and what their current approach to distance learning looks like.
How did the school prepare their students for the transition to distance learning? What resources or support have been offered to students and families? What do current families like or dislike about the approach? The answers to these questions should help you better understand how these decisions were made and if this is the right fit for your family.
Friends' Central School, for example, was fortunate to begin planning for this crisis very early on. With thoughtful coordination between the administrators, faculty, technology team, and the broader school community, we have been able to create a virtual learning experience that meets the academic, social, and emotional needs of our students and their families. FCS has also been welcoming of feedback from the community and, over time, we have been able to adapt our approach to deliver the same care and support that is expected of in-classroom instruction.
2. How will your school approach distance learning in the future?
In addition to asking about the distance learning initiatives currently in place, families should also be prepared to ask about the school's future plans. Understanding how the school plans to operate moving forward will give you a better feel for what your child might experience if they were to be enrolled.
The reality of the situation is that it is hard to know how this crisis will evolve in the coming months, or even, potentially, years. The admissions professionals hosting the virtual tour or information session should be able to share insights into the different possibilities moving forward, including any plans for reopening or what distance learning might look like if there are additional outbreaks.
For instance, Friends' Central is exploring three possible avenues for the upcoming school year, which are ultimately guided by the safety and wellbeing of our students.
Ideally, we intend to open the school for traditional in-person classes in the fall, so long as it is proven safe to do so. On the other hand, if the progression of the pandemic shows that face-to-face learning is not in the best interest of the school community, we are preparing to continue our distance learning initiatives until it is no longer necessary. Finally, we are also exploring the possibility of a hybrid format, in which students will alternate between small in-person classes and remote instruction on a rotating schedule.
As you think toward the future, it's also helpful to explore how these plans will impact other aspects of the school experience, including extracurricular activities. If the school you're interested in does continue distance learning, are there plans to bring extracurriculars online as well?
Some schools, including FCS, have taken great care to ensure that clubs, team sports, and other extracurricular activities have continued to meet virtually in order to maintain the social and emotional connections that are a central component of the school experience.
It's important to understand what your child's experience will be like if you choose to enroll in a certain school and, even if an official plan isn't yet available, you should feel comfortable knowing what solutions are possible.
3. What is the admissions process like?
For independent and private schools especially, aspects of the admissions process like student and parent interviews, standardized testing, campus visits, and so on have been disrupted in one way or another.
A virtual information session is likely one of the first opportunities you will have to speak with the admissions team at a given school, and it is a great time to learn more about the overall admissions process. Ask questions that will help you understand how the process has changed in light of the crisis and what kind of support they are offering to help families along the way.
Under normal circumstances, prospective students may expect to sit for in-person interviews with an admissions professional, submit standardized test scores, experience campus life, and perhaps face tighter deadlines; however, the current situation warrants some flexibility.
Schools like Friends' Central are taking steps to accommodate the unique needs of prospective families and help them navigate the admissions process during this uncertain time. For example, following a virtual tour, students and their families may work with an admissions counselor to organize an in-person tour of the campus that adheres to CDC safety guidelines. Additionally, parent and student interviews are now taking place virtually and arrangements can be made to accommodate busy schedules.
Whatever the case may be, don't be afraid to work with the admissions team and ask questions throughout the process. A great school will make sure to do everything they can to meet your family's individual needs every step of the way.
Making the Most of the Virtual Admissions Experience
Although in a non-traditional format, a virtual admissions experience can still provide great value to prospective students and families. By preparing ahead of time and knowing what to expect, you can make the most of the process so that you can better decide which school is the best fit for your family.
Remember that a virtual school tour, open house, or information session is likely only the first step in your family's virtual admissions experience. Be sure to follow up after the session and start building a relationship with your admissions counselor. From there, you will be able to work together to learn more about the school will help your child thrive so that you can make the best decision for your family.
To learn more about Friends' Central School, families are invited to speak with an admissions counselor, enjoy a self-guided virtual tour, or register for a virtual information session to explore all it has to offer.