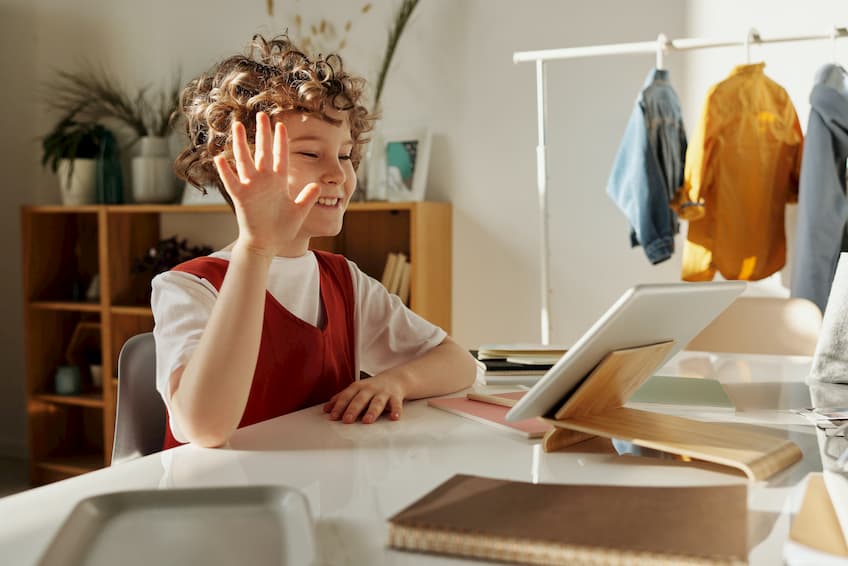 The COVID-19 pandemic has drastically changed daily life in the matter of a few short months. To help limit the spread of the virus and "flatten the curve," important social distancing measures like staying home as much as possible and limiting contact with others have been encouraged, and in some cases required.
By now, most people are familiar with social distancing and why it's so necessary, but it's also important to understand how it impacts the way we interact with one another and maintain healthy relationships. These measures are critical for ensuring the health and safety of loved ones and the overall community. Unfortunately, practicing effective social distancing can make us feel farther apart not just physically, but emotionally.
---
Free Downloadable Guide: Take a Closer Look at Friends' Central School

---
For kids and teens especially, social distancing measures and the rapid transition to emergency remote learning has had a significant impact on friendships. Students are no longer having the daily interactions at school that they are used to, and many may find it difficult to maintain friendships with each other as a result.
Now more than ever, it's important to find new ways to help kids foster healthy friendships while they can't be together in person.
Staying Connected While Social Distancing
Here are three ways to help your family maintain healthy relationships while social distancing:
1. Find ways to connect virtually.
In this day and age, we are fortunate to have resources that allow us to stay connected with one another even when we can't be face to face. One way to help kids stay in touch with their friends is to find different ways that they can connect with each other virtually.
For younger kids, this could be as simple virtual playdates. If there are certain friends or groups of friends that your child misses, work together with other families to schedule a remote playdate using apps like Facetime or Zoom.
Another great way to stay connected is to find a creative activity your child can do with a friend and share pictures of each other's creations when they're done. For example, each child can build a lego castle or do a simple craft and send a picture of the finished product to each other afterwards.
While older kids can often maintain virtual connections a bit more independently, there are still some important considerations to keep in mind. For instance, older kids should try to resist relying on platforms like Instagram, Facebook, Snapchat, and the like to communicate with each other during times like this. On platforms like these, there is a tendency to make unhealthy comparisons between one another, which can end up being detrimental to friendships. Instead, teens and tweens should try to gravitate toward direct connection like video calls to maintain healthy relationships.
There are also certain school-specific virtual programs and activities that students can take part in. At Friends' Central, for example, the Upper School is beginning to roll out virtual sessions for club meetings, advisory sessions, Quaker meetings for worship, and more. The Lower School is even starting virtual recesses where students can reconnect with their peers and teachers throughout the day.
2. Cultivate relationships within the household.
Although it can be difficult for kids to be away from their friends for an extended period of time, it can also be an opportunity to cultivate the relationships that are closest to them—among parents, siblings, and others in the household. In addition to fostering meaningful relationships with those outside of the home, putting a focus on those within the home can help build the foundation of a strong support system that children and teens need during this unprecedented time.
Of course, this can sometimes be easier said than done. For middle and upper school aged kids it's natural to want to push away, but there are opportunities to connect on a deeper level with parents, siblings, members of the household. Simply taking the time to have dinner together when possible, finding activities to do as a family, and checking in with one another frequently can help put these relationships in focus.
3. Find a balance that works for your family.
For many families, it can be challenging to help their children maintain their friendships while also finding a balance that works for them, especially when so much of our communication is now virtual.
When it comes to creating this balance between staying connected and limiting screen time, there's no one right solution. Instead, find a solution that works best for your family's specific needs.
It's important to remember that the main goal at a time like this is making sure that your family is physically, mentally, and emotionally healthy. It can be helpful to take a step back, refocus on what your family needs, and of course, avoid being too hard on yourself.
Staying Close When We're Apart
This is a challenging and unprecedented time that has forced us to adjust many aspects of our lives, including the way we interact with others. But even though students can't see each other in class, hang out on campus, and be physically with one another, there are still ways to stay close to each other even when they're apart.
However, if you find that your family needs more support, there are resources available to help. At Friends' Central, students and families are always encouraged to reach out to teachers, advisors, administrators, and the support services team whenever they have questions or concerns. Those experiencing technical issues are encouraged to reach out directly to the helpdesk by email (helpdesk@friendscentral.org) or through the support portal.