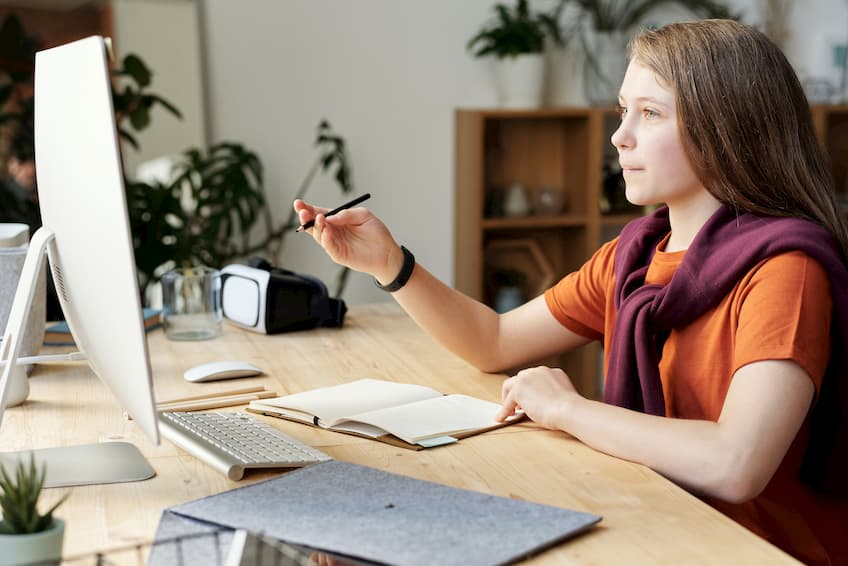 As the world's scientists, epidemiologists, and healthcare professionals work to treat those infected with the novel Coronavirus (COVID-19) and develop a vaccine that will allow us to safely interact with one another once again, our most effective line of defense is to whole-heartedly embrace social distancing measures which limit transmission of the disease and help to flatten the curve of infection.
These measures, while crucial, have forced all of us—businesses, schools, and individuals alike—to undergo an enormous amount of change in a very short period of time. Schools, in particular, have embraced distance learning by moving to virtual classrooms supported by technology.
While undoubtedly different from the traditional classroom setting that we are all used to, distance learning has proven to be an effective alternative, given the challenging situation we find ourselves in.
---
Free Downloadable Guide: Take a Closer Look at Friends' Central School
---
Below, we take a closer look at what distance learning looks like at Friends' Central so that current and potential members of our community can feel confident in the fact that even though we're not physically in the classroom together, we're all rising to meet this challenge head on, and with hearts that are full of compassion and understanding.
Taking Friends' Central Virtual
When asked about the transition to distance learning, Dan Crowley, Director of Technology at Friends' Central, stresses the fact that the process happened incredibly quickly—by necessity.
"What we've transitioned into is really a form of emergency remote learning," he says. "A typical distance or remote learning program involves months, if not years, of planning and preparation. For us, this has been a process of taking our current operations online with as little disruption as possible in order to meet the moment."
Specifically, Crowley credits the success of the program to the school's administration and technology team for being able to see the crisis on the horizon and developing an effective plan as the situation evolved. He also credits the relative ease of the transition to the larger school community, which has carried the effort.
"The success that we're seeing is all due to the support of the faculty, students, and families," says Crowley. "Because this truly is a community. The support that we're seeing for each other is inspiring—though not a surprise, because it's the same kind of environment that we create in our classrooms every day."
About the Virtual Program
In designing the distance learning program, our goal was not to mimic or replace face-to-face interaction, but to carefully curate a curriculum which is engaging and still allows students and faculty to build those critical personal relationships, while also keeping screen time at a healthy level.
"The students were really loving the time with each other and with the teachers," says Crowley. "So there's a very thoughtful schedule for the classes that allows for a blend of synchronous and asynchronous learning. The time spent in those spaces are used to establish connections, ask questions, and stay connected, and is truly invaluable."
Despite the initial shock of the situation and the period of adjustment which it's taken to transition into distance learning, Crowley praises students and families who have come together during this time.
"The student voice, feedback, and respect, the trust that we have in each other—that's why we continue to be successful in doing this," he says. "Our students really want to keep learning."
Resources for Families
To make it easier for parents and families to find the information they need, we've created pages dedicated to distance learning at each of our school divisions. These pages include letters and messages from leadership which are regularly updated; an overview of what the program looks like; resources for both students and their parents; technology support; and other helpful information.
Visit the pages below to learn more:
Additionally, if families are encountering any technological challenges or issues and are unsure of who to contact, they are encouraged to reach out to the helpdesk directly by email (helpdesk@friendscentral.org) or through the support portal.
"Families should feel very comfortable advising their children to advocate and speak for themselves," says Crowley. "Communicate with the teachers, ask questions, engage the faculty. If you have concerns, just reach out, and we'll get you the help and answers that you're looking for."
It Takes a Community
While the coronavirus, social distancing, and distance learning have all come as something of a shock for all of us, it's important to remember that we continue to work through these challenges as a community.