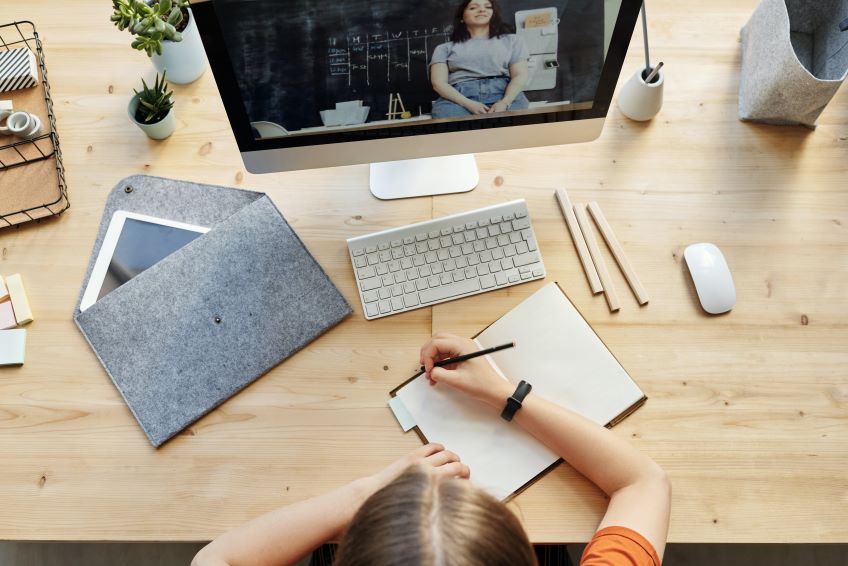 The Coronavirus (COVID-19) pandemic has disrupted our lives in so many ways. Social distancing requires us to rethink how we interact with one another in a variety of ways. As parents, many of us have had to adjust to remote work in many cases. For our children, there has been a sudden shift to emergency remote learning.
As parents, caregivers, and educators, it's our job to ensure that our kids are able to continue learning as effectively as possible, while also caring for their safety and wellbeing. An important factor in doing so is helping them create a space in the home that they can dedicate to schoolwork while they can't be physically in the classroom.
---
Free Downloadable Guide: A Parent's Guide to School During the Pandemic
---
Making the effort to create a comfortable workspace will help your child ease the transition and allow them to stay engaged while learning from home.
Here's a look at three ways you can create an effective remote learning space for your child.
Creating an Effective Remote Learning Space
1. Designate a study space.
The first step in creating an effective space for remote learning is to find a place that you can dedicate specifically to your child's school activities. This is where your child will study, attend virtual classes, and complete any homework or projects they are assigned. These spaces can range from a home office to a desk in your child's bedroom, or even a spot at the kitchen table.
Whenever possible, though, this study space should be used only for learning. Making it a designated study area will preserve its association with learning, so that when schoolwork is finished, your child can take a break and recharge until the next session. If you are able to designate one area as a study space, over time your child's brain will catch on. They will enter into 'study-mode' sooner upon entering the space, whereas moving between spaces will result in new distractions to process and overcome.
Finding a place that your child can use strictly for studying can also help them maintain a healthy balance between school and home life—especially now that these two words have collided.
For example, Dr. Katherine Dahlsgaard, a psychologist at the Childrens' Hospital of Philadelphia, has a central tip regarding sleep hygiene: "Save the bed as a place for sleep and nothing else." Doing so allows students to have that important separation between places that are meant for rest and relaxation and those meant for learning.
To further ensure that this study space is as effective as possible, make sure that it is equipped with the tools and supplies your child needs to complete their school work. For instance, if you haven't already done so, and if you are able to have one delivered to your home, buy a WiFi booster or extender. These devices are easy to set-up and can be very helpful for multiple users in multiple spaces throughout a living space.
2. Limit distractions.
When it comes to creating a space that facilitates remote learning, it's also important to find a place with few distractions. If possible, choose a quiet place where your child can focus and remove possible distractions such as television, background music, and cellphones.
Some students love listening to music while they review notes, and they're able to maintain their focus in this way—but many focus better without music. Music can put your student in a good mood, but if they're paying more attention to lyrics than the material they're supposed to learn, it can be counterproductive. If your child can't work in silence, try switching to ambient noise or classical music.
Older kids and teens should also get in the habit of turning off their cell phones and devices when it's time to study. Not simply turning it over, but turning it off—or at least switching it to airplane mode. Even just knowing that it's there, and that texts or notifications might be coming through, will affect focus. Switching it off can be liberating, so encourage your kids to limit checking their devices to during study breaks.
3. Establish a routine, and stick with it.
Along with creating an effective remote learning space, maintaining and communicating predictable routines is critical as families adjust to the new structure of remote learning. Doing so helps kids to maintain a sense of structure even as they adapt to this shift in daily life and can help them get into an academic mindset during the school day.
It is important for parents and caregivers not to assume that children and adolescents understand that their routine is changing due to COVID-19. Parents and caregivers should take the time to explain the changes in their own family routine and provide a predictable schedule for the day and week. Make this schedule together and post it clearly in a common space.
Maintaining a consistent morning routine is especially helpful as it sets the tone for the rest of the day. Even small actions like making sure they change out of their pajamas and have breakfast each morning can help give your kids a sense of stability in an otherwise uncertain time.
Easing the Transition to Remote Learning
Making the switch from face-to-face to remote instruction can be challenging for students and their families, especially given the current circumstances surrounding the coronavirus pandemic. Making sure that your child has a dedicated study space with limited distractions is one way to help them continue learning as effectively as possible and ease the transition from a traditional classroom to a remote learning environment.
Additionally, educators and families alike should communicate that, regardless of the challenges, students' efforts are appreciated during this unprecedented time. Of course it is important to ensure that all students have academic structures in place and to hold high expectations, but our young people will fare best if they know that their parents, caregivers, and teachers are focused on their well-being.
Families and educators in partnership with one another should make relationships the focus of our efforts now more than ever. For example, rake the time to connect with your child to share one tough moment and one hopeful moment you've each encountered on a particular day. Or, you can each share one new insight you've learned about yourselves during the day. Activities like this can help us build and maintain connection despite the distance.