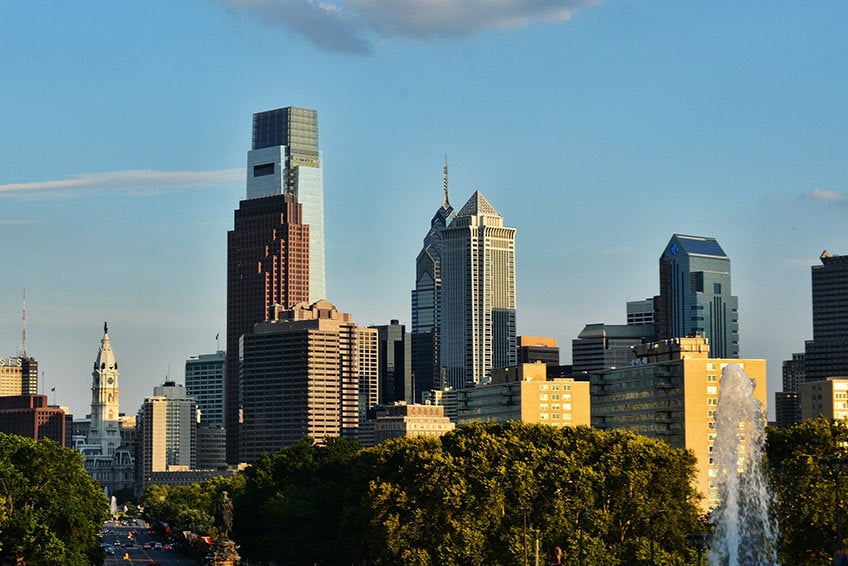 With its rich history, vibrant culture, and endless list of things to do, Philadelphia is without a doubt an extraordinary city to settle down in. In the past few years, there has been a noticeable rise in numbers of people relocating specifically from New York to Philadelphia, and it looks as if that trend will continue.
There are a variety of factors that have led to this migration, such as the more generous real estate market in Philadelphia, a family-friendly atmosphere, steady job growth, and even a desire to opt for a slightly slower-paced lifestyle. Some research has even suggested that the COVID-19 pandemic has fueled the trend as more families adapt to working remotely and begin searching for larger homes to accommodate their needs.
---
Free Downloadable Guide: Take a Closer Look at Friends' Central School
---
For any or all of these reasons, moving to Philadelphia is an exciting decision for you and your family. If you are thinking about making the move from New York to Philadelphia, below is a closer look at some of the differences between the two cities as well as three tips to help you ease the transition.
Living in Philadelphia vs. NYC
One of the first things you might notice when joining the city of Philadelphia is a difference in cost. More specifically, you will likely notice that just down 95 you get much more bang for your buck. For this reason, families looking for more space to accommodate their everyday lives will find plenty of opportunities.
Those who have lived in both cities will also likely tell you that Philadelphia feels a bit more manageable than New York. After all, you can live in NYC for 10 years and feel like you've barely scratched the surface. While the sheer volume of activity in NYC is undoubtedly greater, Philadelphia is never lacking in things to do. In fact, there is a virancy in Philadelphia that few cities can match, and the city allows you the opportunity to explore different scenes much more deeply.
Additionally, you'll likely find that Center City Philadelphia shares the major aspects that you love about New York such as fantastic restaurants, shopping, and entertainment. Unlike NYC, however, Philadelphia tends to have a much more relaxed atmosphere while still providing all of the advantages of living in an urban environment. The suburban areas surrounding the city, like the Main Line, can also be a refreshing break from bustling city life.
3 Tips for Moving to Philadelphia from NYC
1. Spend a weekend in Philly before the move.
If you and your family are thinking about making the move, one of the best pieces of advice you can receive is to spend a weekend in the city to get a feel for your potential new home.
The best way to really get to know this town, or any place, is just by being here. Many people who are unfamiliar with the area don't really have a sense of how much of a city Philly is until they actually get there. It has a little bit of everything—history, new neighborhoods, arts, and sports. There are so many different facets of Philly to explore and if you spend a weekend just experiencing all of those you see very quickly what an awesome town it is.
If possible, consider staying in an AirBnB in the area, especially in the neighborhood you're most interested in living in. Then, use the weekend to see what the area has to offer.
While exploring the different neighborhoods within Center City, you'll find plenty to do as a family. For example, hitting the restaurant scene is a must, but also seeing a show, attending a sporting event, and even driving outside of the city to the Main Line and surrounding suburbs will help you appreciate all that Philadelphia has to offer.
2. Consider the timing.
Families with school-aged children should also consider the timing of their move in order to minimize stress and ease the transition from one place to another.
While it won't always be possible to plan a move around the school year, taking advantage of this opportunity if you're given the chance can be beneficial. Moving June or July, for instance, will afford your family time to explore your new surroundings and become comfortable with the area before your children transition to a new school as well.
Related: 5 Fun Summer Things to do With Kids Along the Main Line
3. Explore school options.
As with any move, selecting a school that fits your family's needs in your new home can be a challenging yet vitally important decision. Fortunately, Philadelphia and the surrounding suburbs are home to a vibrant community of welcoming and highly-regarded institutions.
One major difference between independent schools in the two locales is that while there are independent schools in Center City Philadelphia, there are far fewer than there are in Manhattan or Brooklyn. However, there are many such schools in proximity to Center City that have all of the advantages of being located within an urban community without the restrictions that come with being in the heart of a major city.
In contrast to the schools that are housed in a single or a collection of buildings in NYC, these independent schools just outside of Philly, including Friends Central, have sprawling campuses including academic buildings, facilities for extracurriculars and the arts, sports fields, etc.—a feature that is hard to understand the value of until you step onto a campus.
Independent schools in Philadelphia also nurture a real sense of community. In many cases, this is largely due to their ties to the Quaker influence that is apparent throughout the area. The Quaker thread that runs through the majority of independent schools in Philadelphia creates a bedrock of values centered around community, simplicity, peace, and integrity. Because of the Quaker values that permeate so many of the independent schools, there's a real sense of comradery and community in Philly that can't be found anywhere else.
Calling Philadelphia Home
Philadelphia and the surrounding suburban communities are a wonderful place to settle down and raise a family. Although moving can be stressful in general, the tips above will help you get acclimated to the city so that you can ease the transition for yourself and your children.
After the decision to move to Philadelphia, and subsequently where you'll settle down, choosing a school that fits your family's needs is likely the next most important decision you'll make. Take a closer look at Friends' Central School to learn more about our programs, culture, and community, which are designed to make every child feel welcomed.