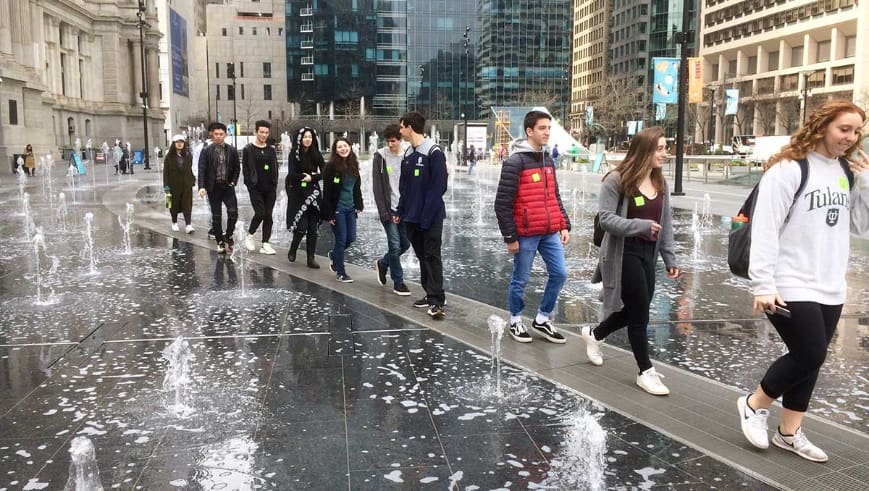 As parents, we understand that the community plays an important role in the lives of our family and our children. No matter where you live or where you come from, community anchors us. Community supports us. Community encourages us and nurtures us so that we can grow to our fullest potential.
But the idea of "community" has shifted substantially in the past decade—especially for our children, who find themselves needing to navigate a digital landscape that most parents and teachers never had to worry about. Social media, in particular, has had an astounding effect on how children socialize and interact with their community and the world around them, sometimes leading to a sense of profound loneliness and disengagement.
Many parents find themselves wondering: How can I raise my child to feel connected to and appreciative of where they come from? How can I raise them to embrace their real-life community in addition to their digital one? How can I ensure they are finding ways to be engaged with and serving their local community? How can I encourage them to have pride in where they come from?
---
Free Downloadable Guide: Take a Closer Look at Friends' Central School
---
One way? Simply spending time out in the community with your child is a great way to help them develop a sense of community that they will carry with them throughout their lives and help them to develop a sense of stewardship and pride difficult to create in other ways. Below, we explore two ways that Philadelphia-area parents can use the city itself to instill a sense of community in their child.
1. Embrace local pride.
If you want your child to have pride in their community, then you need to show them what there is for them to be proud of—it's as simple as that. For Philadelphia parents, there's no better way of doing this than by experiencing Philly together as a family.
It's true that Philadelphia has an extensive number of historical sites, which rightfully deserve to be celebrated and embraced. But you would be mistaken to focus exclusively on the historical aspects of the city. Philadelphia has so much to offer; the best way to help your child learn to love the city is to expose them to all of the things that make us proud. This can include everything from:
A trip to the Reading Terminal Market
A day at the theatre or one of the city's many musical venues
A visit to one of our many world-class museums
Exploring the city's different neighborhoods, like Fairmount or Queen Village, each with its own look, feel, and culture
Embracing our local festivals, like the Odunde Festival or Fringe Arts Festival
Exploring the many outdoor spaces that the city has to offer, from parks like the Fairmount and Rittenhouse to gardens and greens like the Magic Gardens on South Street
At Friends' Central, we know that local pride can take many forms, and we find ways to weave opportunities to experience this into our curriculum. Being just six miles (about a 20-minute drive) from Center City, our students regularly take trips and perform community service in many different parts of the city so that they can experience and appreciate the city in which we live.
2. Lend a helping hand.
Building a sense of community in your child is about more than simply loving the places, resources, and things that their community has to offer. It's also about loving and connecting with the people that make up their community—those whom they already know and those they have yet to meet and engage with.
Engaging in some form of community service together is a great way for parents to expose their children to people with different backgrounds, experiences, and stories to share. It's also a great way of showing children that they are active, and not passive, members of their society—that they have the ability to affect change and bring about a world that is better for everyone.
Some potential ways that Philadelphia parents can use community service to encourage this sense of community responsibility in their children might include (depending on their age):
Tutoring at a local library
Coaching a local sports team
Clearing trails at one of our many public parks or nature trails
Helping out at or donating food items to local food banks or other charities
At Friends' Central, one of our guiding principles is that each of us is a steward of our community. As such, we have a responsibility to do our part to leave the world better off than when it started. We weave this principle into our curriculum in the form of weekly service projects for all Middle School students, where students go into the community and perform acts of kindness. Students participate in service for over an hour every week, and we encourage them to serve their community outside of school hours, as well.
Centered on Community
Instilling a sense of community in your child isn't something that is going to happen instantly or after a single event; it takes a regular, consistent effort. It's also important for students to see how their parents engage with the community—whether it's knowing neighbors, volunteering at a local polling place, or something else. Parents can not only involve their children in the community but model what it looks like to be an active, engaged community member.
In addition to pursuing some of the strategies above on your own, you might also consider reinforcing those lessons by enrolling your child in a school that shares your values around these ideas of community and stewardship.