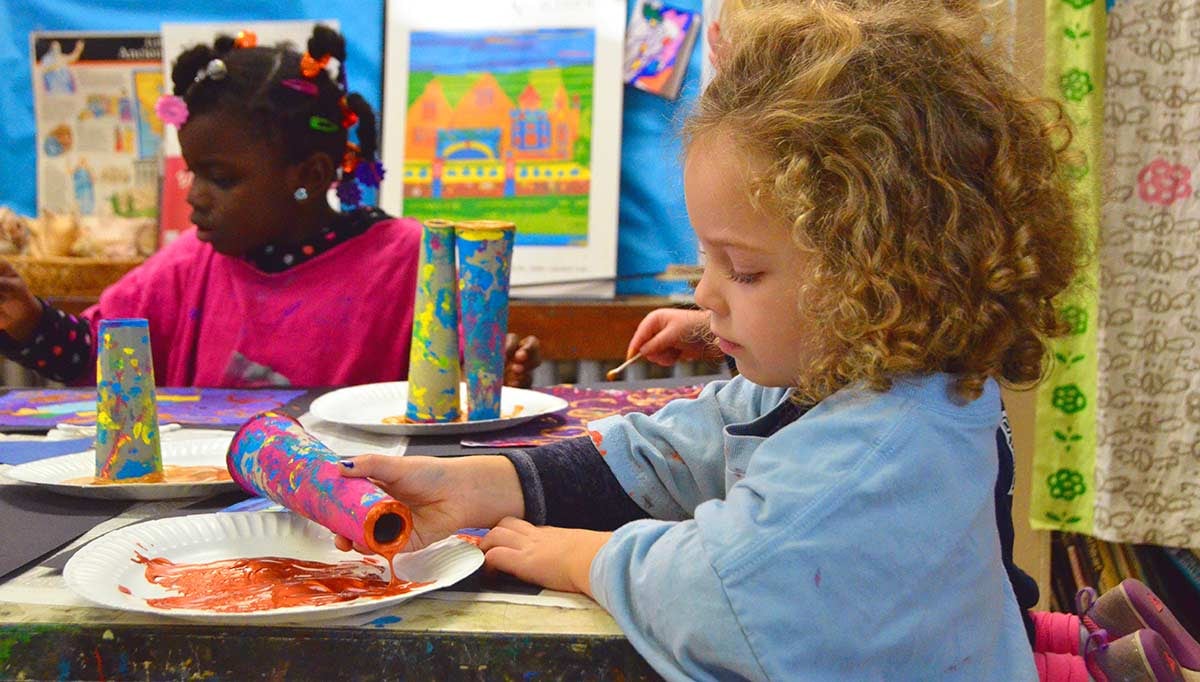 Most young children today will start their education in either a nursery program or preschool before kindergarten. These early childhood education programs offer myriad benefits that will lay the foundation for a great education.
But with so many options to choose from, finding the right nursery program or preschool can be a challenging—though exciting—proposition for parents. This is true at all times, but has taken on added importance as society continues to grapple with the novel coronavirus and the challenges that it brings.
---
Ready to take the next step? Come visit Friends' Central to see what we're all about!
---
What Are the Characteristics of a Good Nursery?
To help make choosing the right preschool or nursery program a little easier for you and your family, we wanted to outline some of the most important qualities that all great preschools have. All great preschools should have: A solid reputation in the community, a warm and comforting environment, passionate teachers and staff, active learning, child-friendly facilities.
1. A Solid Reputation
Good word-of-mouth is the way many families narrow down their search for an excellent nursery or preschool program. Hearing from trusted friends about their good experiences is a great way to start the process. You might also consider checking social media groups that are geared to families of young children.
Some questions you may consider asking are:
Is your child happy to go to school?

Do they share new things they learned while at school?

What do you like about it?

Are the teachers experienced and nurturing?

How does the school communicate with parents?

Is the program play-based, academic, or both?

What extras does the program have? Are there languages, outdoor play spaces, nature education, art, music, science, library, etc.?
At the same time, it is worth asking your acquaintances about what the school's reaction to COVID-19 looked like last spring, if their child was enrolled at the time. Questions like the ones below can help you gauge whether or not other parents found the response acceptable given the circumstances:
How organized was the school in creating a plan of action when the pandemic emerged back in the spring?
Did you feel that the school administration did a good job of communicating with you as everything unfolded?
Was a form of

distance learning

available, and if so, what did it look like?
What does the school's plan look like for the year ahead?
2. A Warm and Comforting Environment
Nursery or preschool is often a child's first experience away from both the home and their parents' loving care. It's crucial that you feel like you can work shoulder to shoulder with the classroom teachers and collaborate to develop your child's social skills.
Visit the campus while school is in session so that you can see first hand how the school operates. How do the teachers interact with the students? How do the students interact with the teachers, with each other? Does the classroom feel fun, engaging, and safe?
The answers to these questions are especially important now, as all of us (young children especially) are forced to deal with much more stress and anxiety than usual.
If a school visit is not possible due to social distancing measures, consider registering for a virtual open house or virtual tour, which many schools and programs are now offering. While it may not be possible to observe a classroom in person, this will still give you the opportunity to speak with one or several members of the faculty. This will help you be more empowered to evaluate your options before making a decision about where to enroll your child.
3. Passionate Teachers
Passionate, caring, and qualified teachers and staff should be a priority. As wonderful as a campus might be, it's the teachers and administration that make the program.
While it is obvious that you should only be working with schools that employ qualified, trained faculty, passion can be harder to identify. But it is one of the key differentiators of an okay preschool and a great preschool.
When you visit the preschools and nurseries on your shortlist, keep an eye out for educators who speak kindly and respectfully with the children. These are flexible teachers who want your child to succeed, are mindful of shorter attention spans, and will adjust their teaching style to keep them happy and healthy in the process.
Qualities of a Great Preschool Teacher
To ensure joyful learning experiences for your child, there are important qualities that every great preschool or nursery teacher should exhibit.
Experience and dedication

Enthusiasm

Creativity

Flexibility

A sense of humor

Passion

Great communication skills

A warm personality
Parents should also consider asking the faculty and staff questions about:
What do you enjoy most about being at this school?

What do you love about teaching nursery or preschool?

How long have you been teaching?
4. Active Learning
Young children learn best by doing or experiencing—through discovery and play. We call this "active learning" or "hands-on learning," and it's an important characteristic of any high-quality preschool or nursery program.
Lots of reading time, arts and crafts, music, dance, exploring the natural world, outdoor play—these are all critically important to young children. In addition to laying the foundations of a solid education by exposing children to reading and writing, play builds curiosity, teaches empathy and problem-solving skills, and helps children to learn important pre-academic skills and concepts like counting, recognizing colors and shapes, and building coordination and fine motor skills.
A joy of learning and a love of school starts early and can flourish in the right environment.
5. Child-Friendly Facilities
When selecting a preschool or nursery, the campus will play a role in which school you ultimately select. Safe and engaging facilities are very likely to rank high on your list, for a number of reasons.
The health and safety of your child are paramount and should be to your child's school. You want to make sure that the facilities are constantly evolving and being updated, and that the faculty and staff are well trained in safety measures.
You will also want to learn about the school's resources. Modern classrooms are chock full of screens, gadgets, and tools designed to teach children more effectively, but be sure to check that they are used judiciously. Also, if outdoor education is appealing, look for gardens, animals, and opportunities for your little one to wonder about the natural world. Science tells us that getting little hands dirty in outdoor play spaces improves health and brain function.
At the same time, it is important to view the facilities through the lens of health and hygiene as well. How are seating areas split up in the classroom? Is there enough space between students? How often is the classroom and all of its contents (toys, desks, tables, books, etc.) disinfected? Is the room well ventilated? These questions can all help you understand whether or not the school holds the health of its students as highly as you do.
Finding Excellence
The nursery and preschool years are the underpinnings of your child's development and educational journey. Use these tips to help guide your research, look for the joy in the classroom, and trust your instincts.