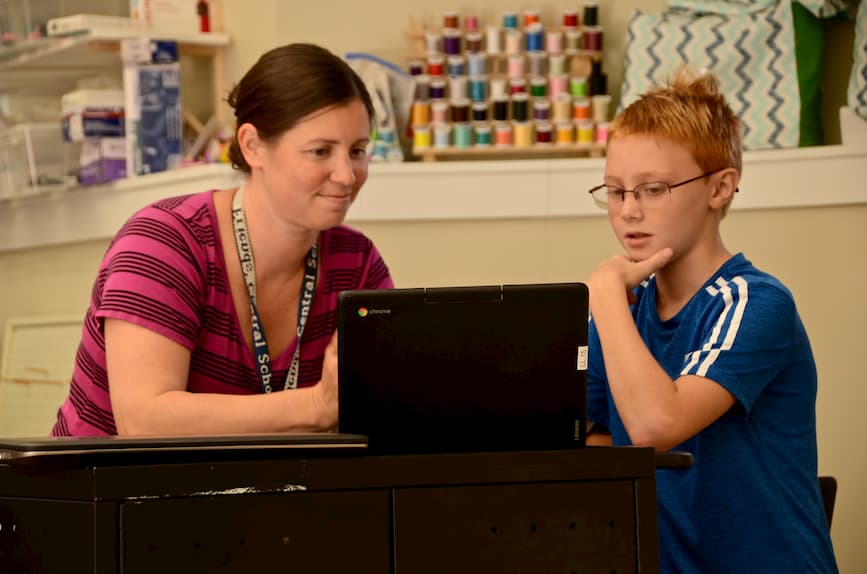 As a middle school educator, I often think back to my time as a sixth, seventh, or eighth grader and remember the things that were most challenging and rewarding about those years. One of the things that fell squarely into the "challenging" category was the conflict I had with my parents as I worked to complete my nightly homework.
---
Explore what it is like to be a member of the Friends' Central Middle School community.
---
Now that I have spent more than a decade as a teacher and principal at Friends' Central Middle School, I see homework completion from a very different perspective. Drawing on my own memories and my professional experience, here are some simple tips for helping your middle school-aged child with homework. The objectives of these tips are to reduce conflict and empower children with their learning throughout high school and beyond:
8 Homework Tips for Middle School Parents
1. Eliminate Distractions
Enough said! No loud music, texting, social media, video games, or watching TV/videos during study times. There is a multitude of research on our inability to truly multitask. One of the best things we can do for our children is to model this and enforce putting aside distractions (including our own phones, for example) when doing important work.
2. Never Take the Reins
When faced with a difficult assignment that your child is working on, it can be tempting to physically take the paper or computer from your child to help complete the work, to proofread, or more. Resist this urge! By all means sit next to your child and join, but taking the paper or computer dis-empowers and sends the wrong message to the child about who is ultimately responsible for the work.
3. Ask Questions, Avoid Directives
Instead of telling your child how to do an assignment or interpreting the assignment yourself, ask your child encouraging, productive questions.
For example, "Read the assignment aloud to me. What do you think the assignment is asking you to do or show? What are the requirements that we should keep in mind before you begin? What resources do you have that will enable you to complete this work?"
4. Don't Fall for "I Don't Know" or "I Can't Do This"
Many middle schoolers will throw up their hands with an "I don't know" or "I can't do this" when approaching homework assignments, particularly when material is new or difficult. These phrases are reflexes for some students but are more about emotions than ability. They are really saying: "This is hard" or "I'm not sure where to start" or "I don't feel confident" or "I don't want to."
Resist becoming drawn into your child's emotions and redirect away from the discomfort or uncertainty. Try "Let's start with what you know" or "What could help you figure this out?" Resources could range from class notes to doing a Google search to calling a classmate. By redirecting your child's emotional energy, we teach children to be resourceful instead of shutting down.
5. Know When to Stop
There comes a point where a child's confusion, frustration, and/or exhaustion is counterproductive. If your child truly works on an assignment for a solid 30-45 minutes and cannot make progress, it's time to stop. There isn't going to be meaningful learning if your child reaches a point of profound frustration or exhaustion.
At this point, encourage your child to meet with the teacher the following day for some clarification or assistance. You could even notify the teacher that your child wasn't able to complete the assignment and will be seeking help.
6. Asking for Help is a Life Skill
If your child needs additional help, work with him or her to plan how to ask for assistance from the teacher. Many students perceive an incomplete homework assignment as giving up or as failure, and others do not know what to ask when they meet with the teacher.
Self-advocacy is among the most important life skills for any student to learn, especially during the Middle School years. We can set students up for success by reframing asking for help as the opposite of "giving up" and by teaching them how to most effectively as for help.
7. How Do You Solve a Problem Like... Math
It's tempting as a parent to teach your child how to do a math problem the way you remember being taught or the way that comes most easily to you. Be careful, your "tricks" or methods could be helpful, but they could also compound any confusion. There may be a good reason why a teacher is teaching a particular method to solve a problem, such as laying the foundation for the next concept. If you want to give your child another method, let your child's teacher know so you can work together without causing additional confusion.
8. Say it (A)loud
If your child is having difficulty with a reading assignment, read it aloud together or separately and then ask questions to help with reading comprehension. It's tempting to give a plot summary, but that will not help your child develop those skills.
Likewise, the best way to help your child with writing is to read it aloud. Proofreading aloud helps the writer slow down enough to hear (and/or see) grammatical or structural errors. It reveals where one thought ends and the next begins, necessitating punctuation.
Finally, reading aloud helps your child to hear whether the ideas are connected and organized. I've had many parents and students tell me that proofreading aloud is the simplest and most effective tool they ever learned for improving writing.
Help Your Child Succeed in Middle School
I hope these simple tips will enable you to eliminate some of the "hot spots" when it comes to homework. Hands on or hands off, there's no right or wrong way to help your child. Just stick with the idea that over the course of each subsequent grade level, your support should be designed to require an increasing amount of self-direction, independence, and self-advocacy on the part of your child. In this way, you are empowering them to master material while forming learning habits that will endure beyond the classroom and the middle school years.
-Alexa Quinn, Middle School Principal