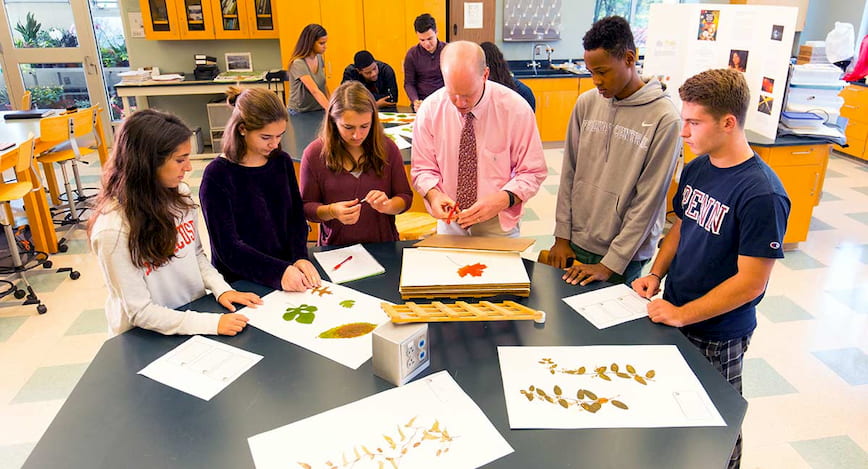 Choosing a high school to attend is an exciting time! Whether you are just finishing middle school now and looking to take the next step in your academic career, or you're already in high school and looking for a change, there are few things more exhilarating than finding a school community that you know will support you as a student and as a person.
This is also a major decision which can have a big impact on your future. That's why it is so important to think critically about the schools you are considering attending and to make sure that you are choosing the school that is actually the best fit for you.
To help you make a more informed decision, check out some of the most important factors that you should keep in mind when comparing high schools.
1. Average Class Size
When it comes to choosing a school to attend, two numbers are very important. One is the average class size, or the number of students typically found in an individual class; the second is the student-to-teacher ratio, which measures the number of students in a school compared to the number of instructors. Generally speaking, the lower these numbers, the better your experience is likely to be at a school.
---
Learn More About Our Upper School By Downloading Our Brochure

---
Why? Smaller class sizes bring a number of benefits to students, including more individualized attention from instructors, a stronger sense of community, and more opportunities to contribute to discussions, all of which can have a positive impact on your overall academic experience.
While many factors should be considered when choosing a school to attend, the average class size can be a rule of thumb to help you quickly rule a school in or out of your list.
2. College Support & Student Outcomes
Class size and student-to-teacher ratios aren't the only important numbers that you should consider when deciding which school to attend. You should also seek information about what happens to students after they graduate, by asking questions like:
What are college matriculation rates?
What percentage of graduating seniors get into one of their top-choice schools?
Which colleges and universities often accept graduates from the school that you are considering?
These questions are important, because individual student outcomes can offer insights into the kinds of support and success that you can expect as a student, should you attend a particular school.
3. Educational Philosophy
Just as it is important to understand the average class size and educational outcomes of the schools you are considering, you should also be sure to understand the unique educational philosophy that guides each of your possible schools.
Different types of schools operate with different educational philosophies in mind. Public Schools, for example, are typically very driven by performance and a mandate to "teach to the test." Independent schools, on the other hand, often have much more creativity and flexibility to develop their curriculum in a way that goes deeper and allows the student to learn in a more holistic way.
Exactly what kind of high school will be the right fit for you will depend on your interests, the way you like to learn, and the specific types of skills (critical thinking, creativity, interdisciplinary thought, etc.) that you would like to develop.
4. The Academic Program
In addition to understanding the educational philosophies of the schools you are considering, you should also get a sense of what exactly the academic program looks like. You're going to be spending the next four years at this school; you should make sure that they offer classes that interest and challenge you!
Make sure you ask questions like:
What are the required courses to graduate?
What electives are available?
Are there any unique classes that you can't find at another school?
Are there opportunities to do independent research or writing?
Are advanced classes available? Does the school offer AP classes?
5. Mentorship Programs & Resources
Not every school offers mentorship programs for their students, but those that do often report amazing benefits to those students.
If a school on your shortlist offers a mentorship program, you can be sure that that school understands the importance of supporting students through the vulnerable years. The presence (or lack thereof) of a mentorship program can be indicative of the other kinds of support you can expect as a student if you were to enroll there.
6. Extracurricular Activities & Clubs
Though academics are, of course, important, they aren't the only consideration worth noting when you are considering high schools. You should also be sure to evaluate the different extracurricular activities that the school offers. What kinds of clubs, communities, and sports teams do you have to look forward to if you were to enroll in the school?
Most colleges take extracurricular activities into account when they evaluate applicants. But these activities bring so much more value than simply increasing your chances of being admitted to your dream school. In addition to allowing you to explore interests and passions that you might not be able to explore in the classroom, extracurricular activities give students something fun to look forward to, and help you meet new people and develop as a well-rounded, multidimensional person. Any school that you are considering should have at least one (and hopefully multiple) extracurriculars that really get you excited.
Taking the Next Step
In choosing a high school to attend, you're doing more than just selecting the place where you will spend the next four years. You are choosing a community to join. By answering the questions above for each school you are considering, you should be better able to evaluate which school would truly be the best fit for you.