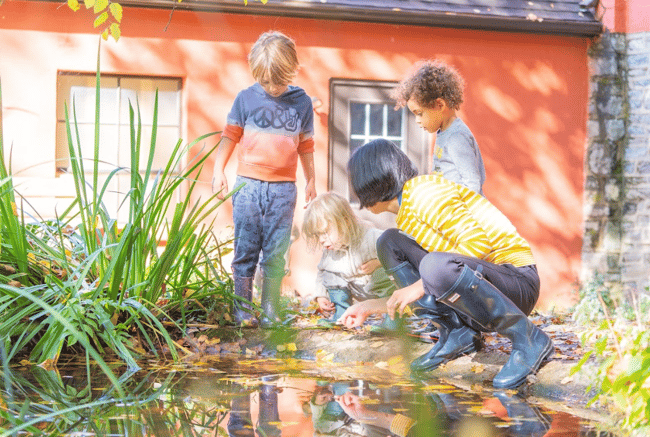 The decision to enroll your child in preschool is an exciting milestone for your family—a new adventure that signals the beginning of your child's personal and academic future! It marks their first steps toward independence, and begins their journey toward developing their own unique identity.
At the same time, it can cause anxiety for some parents who worry about relinquishing their precious child to strangers.
---
Want to learn more about Friends' Central early childhood education programs? Get the free guide!

---
No matter your own feelings about this milestone, there's no doubt that preschool comes with many benefits, providing your child with the academic, physical and motor skills needed to succeed in later educational settings. It also instills in them the social skills, independence, and autonomy that will empower them to make a meaningful difference in their community.
Below, we've gathered a number of tips that you can use to prepare your child for preschool so that you can ease this transition and embrace it with happiness and excitement instead of anxiety.
Preparing Your Toddler for Preschool
1. Choose the right preschool.
While often the primary focus is on preparing children for preschool, the most important factor in this transition is first choosing the right preschool for you and your family. Often, the same characteristics you work hard to instill in your own home are the characteristics you'll look for when selecting your child's preschool. This helps to build a bridge between school and home, and allows parents and teachers to work as a team to ensure children are well-rounded and prepared for their academic futures.
2. Schedule a visit.
When choosing a preschool, it's important to confirm that it has:
A warm, comforting environment in which your child can spend their day
A great reputation in the community among adults and parents you trust
Teachers with obvious passion, dedication, and an investment in your child's success and happiness
Child-friendly facilities that encourage active, playful learning in a safe environment
Of course, you will need to be onsite to determine these qualities, so site visits are an integral part of the preschool selection process. It's a good idea to begin by asking friends, family, and even parent support groups on social media if there are preschools they recommend. As with deciding which crib to buy, how to survive sleep training, and the best foods to feed your child early on, other parents and members of your community can give your search a great start.
Be sure to come to each visit prepared with a list of questions to ask, and ensure you're getting a well-rounded view of perspective facilities before making your decision.
You may also find it helpful to bring your toddler to potential preschools with you. Not only will this help familiarize your little one with the environment before they begin classes, it will help give you an idea of each preschool's operating style, and the overall culture/environment your child will be experiencing. Spend a few minutes in each classroom, and watch how the teachers and staff interact with their students.
Additionally, pay attention to the way staff and teachers interact with your own little one. Do the teachers approach your child in a way that makes them feel safe and welcomed? Do the other children seem warm and engaged with their peers and newcomers? Pay attention to these subtle, but important, interactions, as they may give you a great idea of that facility's overall teaching style, and the environment in which they will be teaching and nurturing your child.
If you need a more structured idea of what to be looking for, our checklist should help guide you through the preschool tour process.
3. Embrace play.
Once you've selected the preschool program your child will attend, you might begin to wonder how you can prepare them for this new adventure. The good news is that you probably already are! Most, if not all, preschool programs are centered around play-based learning. In these programs, play serves as the context for learning—speaking to and motivating children in a language they understand, and allowing them to engage in a natural, curious way.
Likewise, your home environment is already a play-based learning environment. For instance, when you are playing "house" with your little one, you are teaching them to both communicate, and listen. As they pretend to be your doctor, they are developing an active vocabulary as they interact with their "patients". As they fill the coloring sheets that adorn your fridge, they are developing their fine motor skills. As they run and jump in your yard and at the playground, they are strengthening their gross motor skills. And as they read with you before bed about families, friends, and feelings, they are developing a strong sense of connection, and experiencing important social and emotional development.
As you facilitate (and encourage) your child to play, explore, and be active, you are creating a little person who is ready and prepared to join their peers in preschool.
4. Introduce structure.
Another helpful element to work on with young children before preschool—and another aspect of life you've likely already put in place—is the idea of structure and routine. Adhering to a routine provides little minds with a sense of security, dependability and control. So many of the activities you may already have introduced will prepare toddlers for the more structured day they will experience at preschool. Activities like:
Washing hands before dinner
Helping clean up after play
Brushing teeth before bed
Helping feed the family pet
Even the smallest measure of routine will allow your little one to transition more easily to preschool, and begin to practice the habits that will make them ready and eager students in kindergarten and beyond.
5. Help your child build relationships.
One of the main sources of anxiety for parents as their toddlers approach preschool is the idea of separating from their family and spending their day with new people. One of the most incredible aspects of a great preschool program, however, is the introduction and exposure to people different from themselves and their families. Preschool helps children explore and experience diversity, and works to develop them into good citizens of the world.
To prepare your toddler for this aspect of preschool, and to help eliminate the anxiety surrounding it, introduce your child to as many new people as possible, in as comfortable and organic an environment as possible. For example, you might:
Take your little one to the library for story time.
Encourage them to play independently with other children at the playground.
Allow them to participate in community events where they can spread their wings under the safety of your watchful gaze.
This will give them the confidence they need when entering their new preschool community, and set them up for an easy transition.
Don't stress!
As your child approaches preschool, you are likely spending a great deal of time consumed with the idea of preparing them for this newest (and biggest yet) adventure. Ultimately, however, parents should remember that children are adaptable, eager individuals who will thrive, provided they are in a warm, nurturing environment. As such, once you've selected the right preschool for your child, it's important to step back and allow your little one the independence to figure out their role within their new community.
Your goal at home with your child is to create a happy, comfortable, and colorful world. It's important to remember that the goal of a great preschool is to serve as an extension of that world. Once you've found the right preschool for your child, you can marvel at the incredible growth and development this newest period brings. And your preparation, in ways big and small, will ensure it's an experience that helps your child gain the confidence, independence, and autonomy they need to be happy, healthy, well-rounded individuals.