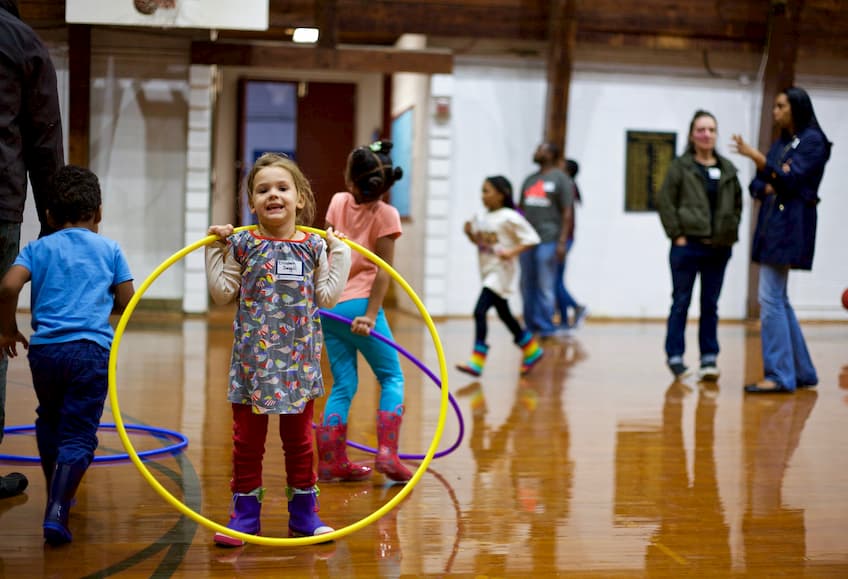 The importance of regular exercise and physical activity in today's day and age cannot be stressed enough. This is especially true for parents who want to ensure their children maintain both mental and physical health. And, when looking at the recent trends concerning physical activity in the United States, especially at the youth level, it's hard for parents not to be alarmed.
---
Free Downloadable Brochure: Take a Closer Look at Friends' Central Lower School

---
For instance, only one in three children are active every day, which could give reason as to why 28% of Americans age six and older are physically inactive. The drastic increases in technology certainly compound these issues, as kids are exposed to more screen time than ever before.
So, just how important is sports participation for today's youth? Here are a few facts:
These are just a handful of stats that highlight the importance of kids becoming involved with sports. The problem with sports for adolescents, however, is that elementary sports programs, unlike middle school or high school athletics, are virtually nonexistent.
So, it begs the question: how exactly can you ensure your child is regularly participating in sports or physical activities while in elementary school?
One way to help your child is by enrolling them in a school that has a wellness program.
Wellness at Friends' Central
The lower school wellness education program at Friends' Central introduces students to the skill associated with individual and team sports and focuses on developing good sportsmanship, cooperation, and teamwork. Other qualities, such as inclusion, creativity, listening, social skills, and self-esteem are also taught and developed in the program.
"We hope to teach the students some of the proper building blocks for getting into and staying in good physical condition," says Devin Coleman, a physical education teacher at FCS. "Those things may vary depending on a given age group, but the collection of qualities outlined on the website is also a very strong list that I think captures much of the important things that we hope students get from our program."
That list includes detailed program goals and guidelines for wellness within each class at FCS. Fellow physical education teacher Beth Tedesco adds that the program's goal is about building a healthy lifestyle that lasts well beyond lower and secondary education.
"Our program is important because by establishing healthy lifestyle habits in students at a young age, they will hopefully carry-over as they continue to grow and get older," said Tedesco. "I also see our program providing a balanced approach."
In order to establish a healthy lifestyle that will carry-over to middle school, high school, and beyond, the proper skills must first be developed to build a solid foundation both mentally and physically.
Below, we've identified four key skills that students participating in a wellness program, such as the one offered at Friends' Central, will develop and cultivate as they grow older.
Benefits of Physical and Wellness Education
1. Social Skills
Participating in sports at an early age offers several benefits that extend well beyond the physical aspects of regular exercise. Specifically, the social benefit of sports participation provides an unparalleled environment for hands-on learning and behavioral growth.
Simply put, when participating in sports, students learn to work together toward a common goal. And, to achieve this "common" goal, students must learn to listen to one another in order to communicate effectively and ultimately, build positive relationships.
By participating in sports at an early age, kids can learn the benefits that come with working together in a "team" environment. Socially, they'll learn to understand that without a team-first mindset full driven by effective communication and positive relationships, their common goal cannot be reached.
This concept isn't necessarily new, however, sports participation amplifies the significance of this philosophy through teamwork, communication, and relationship building. The sooner kids can be exposed to these benefits, the better.
2. Motor Skills
The development of motor skills is arguably the most well-known and transparent benefit of participating in sports at an early age. Specifically, sports participation can have a profound impact on each student's fine and gross motor skills.
Fine motor skills involve a great deal of hand-eye coordination, which at an early age could involve gripping objects or using both hands for a task. Gross motor skills, however, are movements involving larger muscle groups, such as walking or jumping. Regular participation in sports helps to define and fine tune these skills, especially at an early age.
As kids grow and develop, proper technique for specific sports should be taught, however, at an early age, consistent repetition should be promoted first to develop both a mental and physical foundation for basic motor skills.
Similar to many other skills, the earlier an individual can get involved with building the proper foundation for success, the better. That's why participating in sports at an early age is so crucial for motor skills development. Also, by participating in sports, kids can learn a sense of personal space along with spacial and body awareness.
3. Preparation for Sports Teams
As students get older, individual and team sports are introduced (this usually occurs sometime around the 3rd or 5th grade). Kids can be best prepared for this stage by participating in regular physical activity at an early age, which is another reason why a program—like Friends' Central Wellness Education—is so impactful.
"The Lower School Physical education program does plenty in terms of introducing a variety of sports to the students prior to them having a chance to play for the school at a competitive level," said Coleman. "By telling students what sports will be available in middle school and having them participate in units that focus on those sports, it is our hope that they find a sport of interest that they may want to play once they reach middle school."
He adds, "Basic skills, terminology, and positions are taught for these sports, which is hopefully enough information to capture their interest or at least educate them enough about a sport so they can make a solid decision once they get to middle school and are given a choice."
This stage of development is especially important for kids to learn the fundamentals of good sportsmanship, cooperation, and teamwork. Having a program that encourages these fundamentals, as Beth Tedesco says, can have a positive impact on students as they advance into middle school and beyond.
"My hope is by having a positive and fun experience in our lower school physical education program that students will look forward to being a member of our middle school teams," says Tedesco.
4. Mindfulness
Mindfulness is important because it can have a profound impact on how the brain processes pain and regulates emotion. To that point, the psychology of mindfulness is described as a technique in which one focuses their full attention only on the present with an open mind, experiencing thoughts and feelings, but not judging them.
Mindfulness is a critical component of the Wellness Education program at Friends' Central because it embodies two elements of the program's goal: becoming active in mind and spirit. Becoming active in mind and spirit carries a number of positive health benefits too, which reinforces the fact that sports participation builds on more than just physical strength and speed.
Mindfulness also shares similarities with social skills because both deal with cultivating a welcoming, positive, and inclusive attitude when dealing with others. And, like many of the previously mentioned skills associated with sports participation, the sooner kids can become introduced into these philosophies, the better.
Enroll in an Elementary School that Values Wellness
As you can see, there are many benefits for kids who participate in sports and physical activity that go well beyond the advantages just associated with physical health. Mental health, a better attitude, and positive outlook on life are all associated with kids learning the fundamentals of sports.
So, when it comes to ensuring your child has the proper tools and education to learn and expand upon these skills, enrolling them in a school with a wellness program is essential.
By enrolling your child in a school that has a wellness program, such as Friends' Central, you can give them a considerable advantage physically, mentally, and academically that can, and most likely will, carry-over to upper school and beyond.