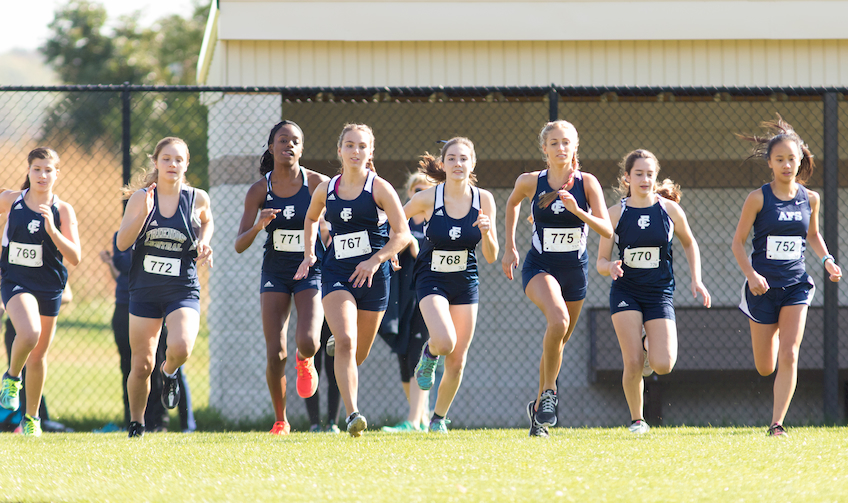 When it comes to choosing a high school for your child, there are many factors to take into consideration. Strong academics are critical. So is an educational philosophy that aligns with your family's principles. And, of course, extracurricular activities and clubs also get a lot of attention.
But what about sports?
Most families want their child to have the opportunity to play a sport that they enjoy. That's why it's important for schools to promote and support athletics. Schools that support athletics provide a number of benefits for students to develop academically, socially, and physically.
---
Learn More About Our Upper School By Downloading Our Brochure

---
Here, we explore some of the most powerful of those benefits and detail the impact they can have.
Benefits of High School Sports for Students
1. Physical Health and Wellness
High school sports promote physical health during arguably the most important time of a young person's life. Multiple studies have been conducted on the physical benefits of high school sports, and not surprisingly, the results are largely positive.
For example, researchers at the Centers for Disease Control and Prevention's Youth Risk Behavior Survey found that students who participate in high school sports are less likely to engage in activities that could have a negative impact on their health, such as smoking and drinking. Furthermore, they found that sports participation reduces the chance of obesity or type 2 diabetes, which is generally associated with a lack of physical activity.
In addition to physical health, sports participation also promotes mental wellness. The stresses of performing well both academically and socially can be a heavy burden for students. However, by participating in sports, students not only gain an outlet to relieve that stress, but also to improve their mental health overall.
2. Leadership and Teamwork Skills
As mentioned above, teamwork, inclusion, and equality are all major benefits of participating in high school sports. Luke Nowell, a soccer coach and digital strategist at FCS, describes the development of leadership skills in his players, which is not exclusive to upperclassmen:
"Every year I'm surprised by student athletes. At 15 or 16 years old, they all of a sudden mature and grow into a leadership role and take younger players under their wing by showing them the ropes."
Nowell adds that sports also cultivate valuable life skills, such as empathy. As students experience what it is like to work as a team toward a common goal, they develop a better understanding and appreciation for their peers. The teamwork and leadership skills that students learn on the field often carry over to the classroom and beyond, creating a more positive school culture as a whole.
3. Mentorship
Mentors help to facilitate personal and professional growth, and in a high school sports setting, coaches are the ultimate mentors for players. This means they play an integral role in guiding students toward achieving their goals and reaching their highest potential.
"From my experience, the depth of relationships that coaches are able to build with student athletes is a major differentiator at FCS," said Nowell. "Our coaches not only help students on the field, but also with academics, the college application process, extracurriculars, and service opportunities as well—we empowered kids to get more involved."
Coach-to-athlete relationships create a 'bigger picture' perspective for students. At their core, these relationships convey that personal growth for student athletes involves more than just the sport they're playing, but rather how they develop as a person in the community on a local and global scale.
4. Time Management
Participation in high school sports teaches students the importance of properly managing their time. Whether it's a test scheduled around a big game, or a study hall session before or after practice, student athletes learn to balance busy schedules on a consistent basis.
Like many of the other benefits of participating in high school athletics, learning proper time management has a profound impact on students well beyond high school.
"I've seen kids adjust to the rigors of college life firsthand," Nowell said. "Finding that balance while they're in high school is so beneficial."
To further illustrate Nowell's point, Friends' Central alumni often speak to the school's success in preparing them for the challenges of balancing academics, extracurriculars, and athletics at the collegiate level. That balance ultimately begins with the lessons they learned while playing sports at the high school level.
Nowell adds, "Where a lot of kids enter college and struggle to play catch-up and adjust to day-to-day life, our students have already been living it for four years, so it makes the transition seamless."
5. Improved Academics
Several studies have linked positive academic results from students participating in high school athletics. One example comes from the National Federation of State High School Associations. Their research revealed that sports team participation was independently associated with a higher GPA for high school girls and boys.
Furthermore, coaches and administrators agree that there are several transferable parallels between the classroom and the field. Some of these shared, universal traits include being prepared and communicating effectively through team collaboration and inclusion.
Various research sheds light on the fact that high school sports offer invaluable lessons that carry over to the collegiate level. For example, an average of 10 to 15% of Friends' Central graduates go on to play sports at an advanced level. In fact, a record number of students in this year's senior class are expected to play in college..
Simply put, the strong, collaborative environment offered through high school athletics programs can—and most likely will—give students the tools necessary to succeed in academics and athletics at the next level.
6. Accountability and Responsibility
On the surface, high school athletics are beneficial because they teach students to be responsible. The daily requirements of a sport, such as showing up to practice prepared and on time may seem small, but they add up to build accountability within every player.
Furthermore, high school sports positively influence kids to hold both themselves and their teammates accountable. This, in turn, teaches the value of collaboration and coordination to grow and learn from mistakes.
Take, for example, the athletic programs at Friends' Central. Beyond just the physical aspect of practice, coaches and teams consistently work on building character, staying positive, and communicating effectively to grow as individuals and as a group.
Sports at Friends' Central
At Friends' Central, sports play an important role in furthering our vision and mission. As such, the athletics program is treated as an integral part of our educational curriculum, used to cultivate the intellectual, spiritual, and ethical promise of our students.
"One of the most important aspects of sport is how it teaches students resiliency by learning to fail," says Nowell. "To take that failure, learn and grow from it and bounce back even stronger is so crucial not only on the field, but in the classroom, and in life."
Would you like to learn more about the role that sports play in a Friends' Central education? Speak with an admissions counselor, visit our Upper School campus, or download this free brochure.