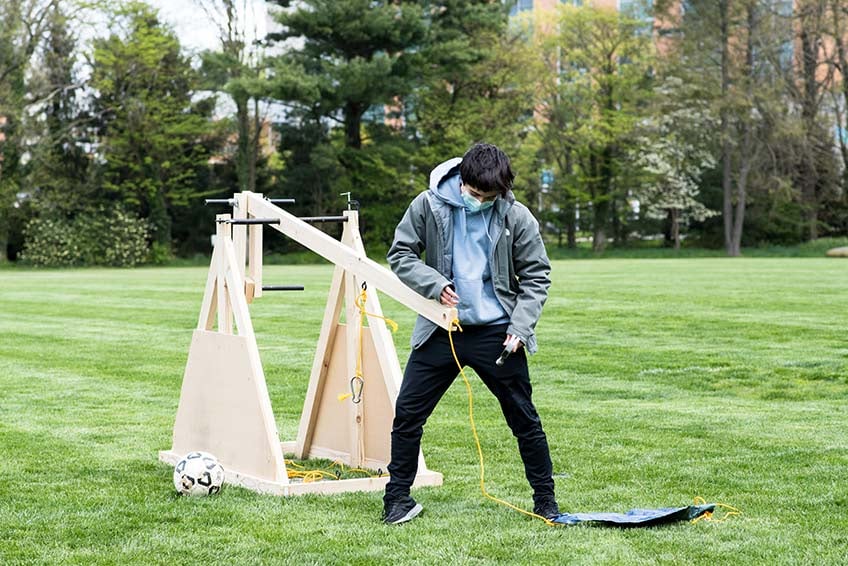 At Friends' Central School, our students are taught to understand that knowledge does not simply exist: It must be generated, and each of us have a part to play in the creation of knowledge. This principle underlies our educational philosophy, and is a key way that our students come to realize that they have agency not only to guide their own academic path, but also to make real and lasting changes in the world.
---
Learn about our exceptional Upper School curriculum with our free downloadable planner.
---
With this in mind, it's little surprise that FCS students regularly make major contributions to our collective understanding of the world. Below, we take a look at three recent Friends' Central students who made scientific discoveries over the course of their studies.
Examples of Scientific Discoveries that Started in the Classroom
1. A Previously Unrecognized Moth Species
In July of 2017, Friends' Central Upper School science teacher John Gruber traveled to New Mexico to collect moth specimens. That same summer, he held the first DNA Science Summer Camp, designed to teach camp attendees about DNA.

As a part of the camp, John instructed the enrolled students (G'ianni Rowley, Makayla Washington, and Myanah Martin of West Philadelphia) to select a moth from his collection to study. In reviewing the DNA sequence of the selected moth, they were all surprised to find that the it's DNA did not match the expected genome.

Though the students believed that they had made a mistake during the sequencing, Gruber committed himself to investigating the issue further while keeping in touch with them. In the coming years, a number of Friends' Central School students and alumni volunteered with Gruber in his lab, where they continued to collect data about the moth.

In the end, they came to the conclusion that the moth was a species that had been previously identified in the 1880s by Professor Frederick Snow at the University of Kansas. In subsequent years, the species was incorrectly determined to belong to a different species. Through the work of John and his student volunteers, the original species was able to be reestablished and recognized as a truly unique species.

"One of the things I love about this project," said Gruber, "is that it shows the way that there's so much that's unrecognized and unexplored."

The discovery was published in a scientific research article in the June 2021 issue of The Journal of the Lepidopterists' Society.
Read more about the project here.
2. Insight Into How Humans Identify Constellations in the Night Sky
In April of 2021, Sophia Davis, a senior at Friends' Central School, was featured in Science News for Students thanks to research she conducted in partnership with the University of Pennsylvania about how humans identify and trace constellations in the night sky.

During Sophia's junior year of high school, she began to question how people from different geographies, time periods, and cultures all recognize star constellations in similar ways. Determined to pursue the question further, she reached out to Danielle S. Bassett, Professor of Physics, Astronomy, and Bioengineering at the University of Pennsylvania, who allowed her to work in the Complex Systems Lab.
Over the course of the project, Sophia and her team determined that three primary factors contribute to whether or not different groupings of stars will form patterns that are recognizable across diverse populations: The brightness of the stars, how far apart they are from one another, and the unique way that the human eye traces the night sky.

Sophia presented the team's findings on March 18, 2021 during an online meeting of the American Physical Society, titled Free Energy Model of the Human Perception of a Starry Sky.

Read more about the project here.
3. A Patented RFiD Rock Wall Scoring System
For years, Friends' Central School students Ben Lehrer and Jonathan Roach have been interested in robotics and electronics. The two friends began making in middle school, contributing projects to both the Philadelphia Maker Faire and the World Maker Faire.

In 2017, Jonathan and Ben developed a system for rock climbing designed to track the movement of individuals as they climb a wall. Built using RFiD (radio frequency identification) technology, the system can be used by individuals to track their performance and monitor their improvement over time. It can also be used in competitive environments.

The technology, called RFiClimb, won the Best in Class and Editor's Choice awards at the World Maker Faire in 2017. After the win, Jonathan and Ben went on to patent the system and have licensed it to Climbalytics, a company that makes its own technology used to help rock climbers track and understand their progress.

Read more about the project here.
Empowering Your Child
In the examples discussed above, students were able to make real scientific discoveries and observations—sometimes on their own, sometimes in collaboration with other students or under the guidance of their teachers. While the exact circumstances differed from case to case, the common thread uniting them all is students who were passionate about creating knowledge, who used that passion to take agency over their education.

If you are interested in developing these characteristics in your child, there are a number of steps that you can take. The first, and perhaps most important, is: If you find your child passionate about anything—science, technology, coding, etc.—it's crucial to encourage them to pursue that passion.

Beyond this, it's also important to seek an educational partner that will also help your child discover and pursue their passions. In evaluating potential schools for your child, you should look for examples like these. There are few better markers of a supportive environment.