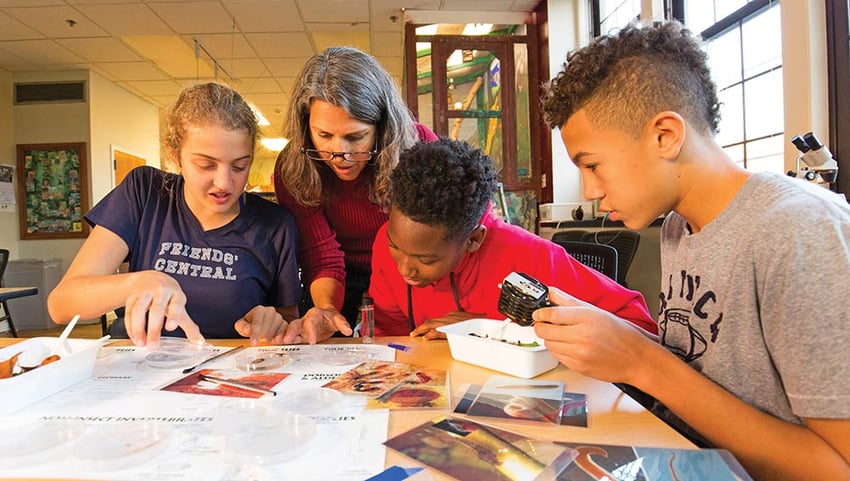 If you are in the middle of deciding which independent school is right for your child and family, then you undoubtedly have a lot going through your mind. Questions about teacher-to-student ratio and college matriculation statistics are probably of the greatest concern, followed closely by questions of cost, transportation, and other logistics.
While those questions are inevitably some of the most important for you, as a parent, to have a firm grasp on before making a final decision about where your child will earn an education, there's one thing that many parents overlook when evaluating schools: What does your child think about the school?
---
Ready to take the next step? Come visit Friends' Central to see what we're all about!
---
This question of course carries different levels of importance to different families, and a child's opinion of a school needs to be weighed against things like the child's age, their maturity level, etc. But it is important for children, especially older children, to play at least some role in deciding which school is right for them.
Soliciting their feedback while evaluating schools will allow your child to feel that their needs and desires are being heard and considered, and will help them feel a sense of agency over their education, which can go far in instilling a sense of purpose as they go through their studies.
To help you include your child in the decision-making process, even if only nominally, we've pulled together this list of questions that you should ask your child after a school campus tour. At that point, they will have had some meaningful exposure to the school and should be able to offer meaningful feedback that you can use while you finalize your decision.
Questions Parents Should Ask Their Child After Visiting an Independent School
1. What did you think about the classes you saw?
Hopefully, your child's campus visit will include the opportunity to sit in on one or a number of classes. This is an important part of any school campus tour, because it will give both you and your child a sense of what it would be like to be a student at the school.
After your visit is complete, you should ask your child what they thought of the class or classes that they observed. What specifically did they like? What, if anything, did they specifically dislike? How did the teachers' teaching styles or classroom dynamics differ from past experiences that your child may have had?
You should also be sure to come to this discussion with answers of your own, as a very typical answer from a child might be a shrug and an, "I don't know." Offer your child your own evaluation of the classroom dynamics, teaching style, and student engagement, etc. and see if the concur. Why or why not?
2. What extracurricular activities offered by the school interest you?
Even the most academically-driven child might not get that excited talking about classes, assignments, and homework. But one thing that almost every child will get excited about is extracurricular activities.
Things like sports, clubs, and out-of-class activities aren't only fun—they're an important way that children bond with one another. Extracurricular activities offer a new social channel that children might not otherwise have, and have the potential to build lifelong friendships that go beyond graduation. And, of course, these activities also play a role during the college admissions process, with most competitive schools preferring well-rounded candidates.
If your child is lukewarm about a particular school, or is simply disinterested in the entire process of selecting a school, then approach the subject through the lens of extracurricular activities that are available at each school. Make sure that your child knows what a school offers (and, just as importantly, what they don't offer) and try to find something that gets them excited.
3. What did you think of the campus and facilities?
Aside from the time they spend at home, school is the place where your child is going to be spending most of their time from day to day, at least during the school week. And though Academic program is usually the primary basis for selecting a school, it's also important to make sure that the campus and facilities themselves do their part in promoting learning instead of hindering it.
Is the school technologically up to date? Does the campus include access to nature? Are sports fields and courts located on-campus, or do students need to travel to reach them? Is the school a comfortable place to learn (warm in the winter, cool in the summer)?
Ask your child for their honest opinion of the facilities and seriously weight their concerns as you make your decision. All of these factors will play at least an indirect role in ensuring that a school is conducive to learning, and so should carry at least some weight in your school-selection process.
4. Do you think you'd be excited to go to this school?
If you visit a school and find that your child is especially excited after leaving, that is something that you should take note of, and something that you should delve into more deeply. Ask them what, specifically, they find exciting about the school, and try to determine why they want to go to that school.
These insights can really help you as a parent frame your thinking as you evaluate schools for your child, and can make for a more fulfilling search. If your child is excited about any aspect of their education, that is something that should be fostered and capitalized upon.
Helping Your Child Feel Heard
Asking your child to share their impressions about the schools you are considering is an important part of choosing a school that fits well with your family. In addition to letting your child feel a part of the process, it will also allow you to make a more informed decision, and could even let you address some apprehensions that your child might have toward a certain school.