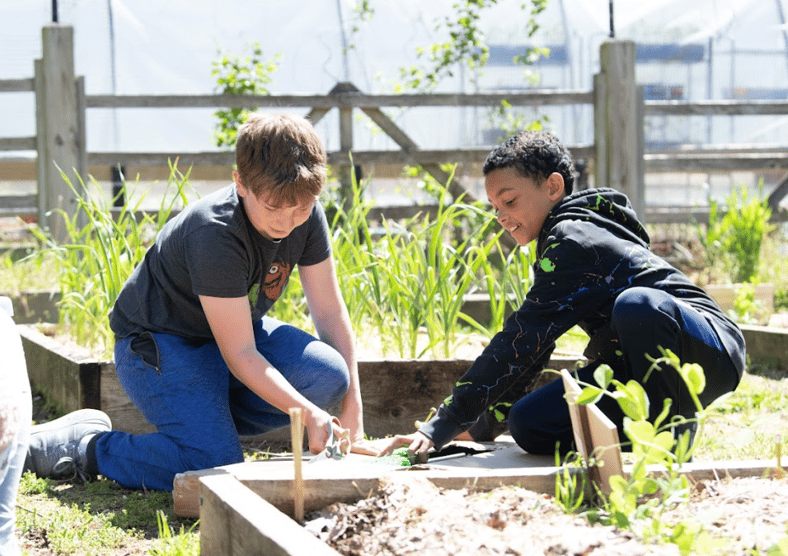 For many parents today, thoughts of childhood can recall images of summers spent outside, playing with friends until the street lights came on. For many, those earliest years were spent in an entirely different world compared to today. Children are becoming more aware of the world around them through the internet, television, and smartphones.

Parents today understand their child's proximity to news stories and real-world examples of the growing national and global climate challenges facing their generation. And while the instinct is often to keep our children sheltered and free from these fears—especially at a young age—it's important to help them understand topics like climate change because they greatly affect both their present and future world.
The Importance of Talking to Kids About Climate Change
While climate change has long been a topic of discussion in homes and schools around the world, talking about it with children is now more important than ever. "The conversation around climate change has evolved over the last twenty years," explains Tiffany Borsch, Science Educator and Farm Manager at Friends' Central School.

With the issues facing our global climate growing more impactful each year, children are hearing about it everywhere. "Kids hear about climate change on the news, in conversations at school, and even in the cartoons and TV shows they watch. So it's really important to help dispel any myths or misinformation they may be getting," says Borsch. As a result, parents should prioritize helping their child develop curiosity about the world around them, while framing these issues in a way they'll better understand.

It's also important for parents to allow children to ask questions, and seek out information about the world themselves. This gives children the space needed to develop an interest in activism as well as explore and investigate various issues facing our planet. Schools that foster curious learners can help parents instill this sense of autonomy and activism in their young learners.
---
Free Downloadable Guide: Take a Closer Look at Friends' Central School
---
However, these types of conversations can't remain in the classroom. While schools and educators can help parents navigate these topics, it's important to continue and build on these conversations at home.
4 Age Appropriate Climate Change Topics to Talk About With Kids
To help children understand climate change, it's important to help them build a strong foundational understanding of the natural world around them. "Environmentalism often gets lumped together with climate change, and affects the way our children hear about and understand it," says Borsch.

For this reason, parents should encourage their children to explore topics including:
Differences between weather and climate
Climate change's role in current events
Effects of greenhouse gasses on the environment
Climate change impacts on plants, animals, and humans
Fortunately, there are several resources to help parents not only discuss these topics with their children, but explore the ways they can have a positive impact on the world around them.
1. The Difference Between Weather and Climate
While it's easy for young children to assume weather and climate are one and the same, it's important to ensure they know the difference. Weather is one of the earliest concepts a child will learn in school. However, giving them a well-rounded view of climate will ensure they understand what's at stake when it comes to climate change. According to Borsch, showing students "real, concrete examples of climate and the patterns facing the world," helps them better understand this idea.

By ensuring children have an awareness of how the natural world contributes to climate change through concepts like the tragedy of commons, they're able to understand the connection between resource consumption and scarcity.
2. Current State of the World
To help children properly understand climate change, discussing current and real-world examples can provide much needed context. However, with young learners, it's also important to cite feasible solutions and success stories to ensure the topic isn't too frightening. For example, parents can help their child learn more about climate change through global programs like the Montreal Protocol to focus more on how people can work together to make a positive impact.

Showing young learners how to come up with solutions to combat climate change is key. Parents can get inspiration from schools that are committed to sustainability education. "This helps students see themselves in these situations and shows them possible solutions to truly daunting problems," Bosch explains.
3. Greenhouse Gasses
Greenhouse gasses' impact on climate change should be an important area of focus. For example, talking about fossil fuels in different ways, "We want to talk about what they are, why they're awesome, and how problematic they can be when it comes to climate change," says Bosch. Again, finding ways to talk about these concerning topics in a lighter fashion can be incredibly important when talking with your child. At school, many educators find hands-on experiments and demonstrations turn a more advanced topic into an exciting discovery.
4. The Impact of Climate Change on Plants and Animals
Focusing on climate change's impact on plants and animals—things many young children care greatly about—is an excellent way to help them understand its importance. You can accomplish this by asking young children to study a particular animal and investigate whether its habitat and food sources are impacted by climate change. By making the connection between the threat of climate change and a cute animal, students become more invested in thinking critically about how they can make an impact.
How Friends' Central School Empowers Students to Make a Difference
While these concepts can seem daunting to young minds, it helps to frame these conversations around finding possible solutions. Institutions like Friends' Central School tackle this by empowering their students to be early and active advocates for change within their community.

The Quaker values at the center of FCS's mission encourages young learners to consider their role in improving the real-world problems they see each day and think critically about how they can have a positive impact. For example, FCS has adopted a popular sustainability framework called "Circles of Sustainability" to help even the youngest learners understand that small changes can still contribute to the improvement and care of the world around them. "We have really focused our efforts on how we can take our initiatives and make them actionable for faculty and students," Bosch explains.

Here's a closer look at the many ways FCS education can help parents start the conversation around these difficult topics.
1. Provides Sustainability Service Opportunities
Service, and service learning, play an important role in helping students feel empowered to be advocates. Fortunately, there is no shortage of opportunities for even the youngest learners to undertake. At Friends' Central School, community service and the idea of stewardship are at the center of the curriculum. Our program offers hands-on examples of simple actions students can take to contribute to the greater good in their community and world.

A great example of this can be found on the school's farm. Treated as a "natural classroom," the farm provides an opportunity for children to connect with the natural world while developing their academic skills. Children of all ages are encouraged to take an active role on the farm, and help cultivate the very food eaten by the school community. This not only supports the idea of sustainability, it reinforces young learners' identities as members of and contributors to a larger community.
2. Encourages Reading Topical Literature
Parents already know the important role reading plays in explaining the world to children. Climate change is no exception. "Reading books on this topic is a wonderful way to engage children in these discussions in a meaningful way," says Borsch.

Fortunately, the world of climate-change centered literature is geared toward all ages and levels—and the collection grows each day. At FCS, younger children are encouraged to read these books to make this topic more fun. Luckily, there are plenty of new books surrounding this topic as it becomes part of the mainstream. Some of these books include:
Thank You, Earth: A Love Letter To Our Planet by April Pulley Sayre
Fatima's Great Outdoors by Ambreen Tariq and illustrated by Stevie Lewis
The Lorax by Dr. Seuss
3. Turns Learners to Advocates
Parents should also remember to tap into their biggest and most impactful partner when it comes to communicating with their child: educators. Finding a school with a curriculum dedicated to environmental protection and sustainability ensures your young learner develops an informed and curious approach to the world around them.

Friends' Central School has several units geared toward fostering childrens' natural curiosity about the issues facing their environment and empowering them to take an active role as in their communities. One example of an elementary school project that encourages young learners to problem solve is the "What Can You Do?" unit. Children choose their climate change topic and their advocacy solution. Some projects involve:
Writing letters to their local and state government representatives
Running simple nature-based experiments and presenting their findings to their classmates
Picking topics to learn more and "teach" their peers
These activities help support and reinforce the ideas parents are discussing with their children at home, and will help instill a sense of confidence in their ability to create positive change.
Creating a Better World Together
In reality, our children have many of the same fears and anxieties about the future as we do. By simply starting the conversation around these topics with children, working to ensure they understand them, and focusing on the "how," parents can help make a difference.