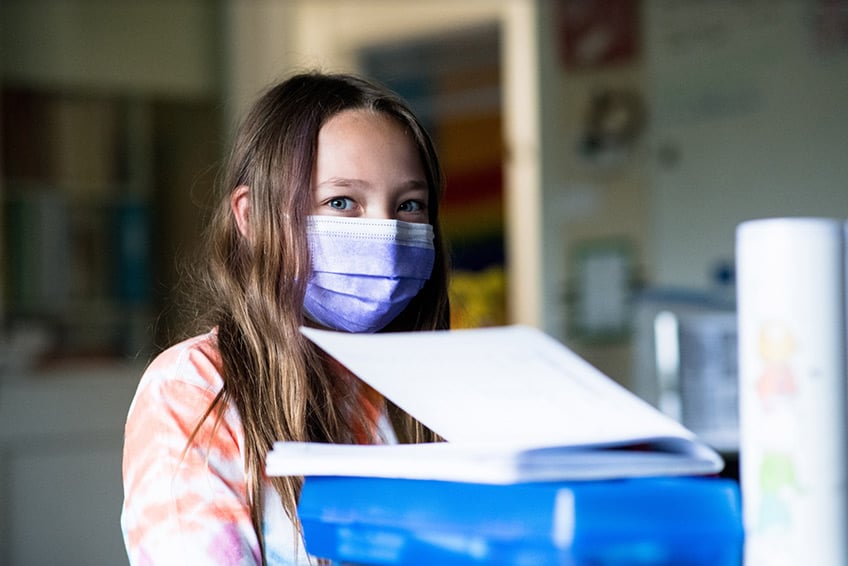 This fall, some children will be returning to in-person instruction for the first time in over a year. If you have a child in this situation, you may be wondering what you can do to make the transition as smooth as possible. Here at Friends' Central, empathize with these concerns and challenges facing students and families.
Going back to school after summer vacation is always a challenge, even in the best of times. Meeting new teachers, seeing old friends, and navigating unfamiliar hallways are just a few of the things students face at the start of each school year. Now that COVID-19 is part of the equation, health and safety is also a consideration, and parents may be wondering what they can do to help make their child's return to school as easy as possible.
---
Free Downloadable Guide: Take a Closer Look at Friends' Central School
---
That is why we have collected a few tips to help families make sure everyone has a positive start to the school year.
Tips for Preparing for Back to School
1. Start small.
It may be difficult to remember what life was like before COVID-19. Summer is a great time to get kids reacclimated to those routines that weren't necessarily possible during the height of the pandemic, as well as return to pre-pandemic behaviors. Establishing bedtime routines and shopping for school supplies were two activities that may have been interrupted by the pandemic. Returning to these practices, though, is a great way to remind children that life can return to some level of normalcy after COVID-19.
However, safety precautions will undoubtedly make life feel a little different. Families that have concerns about safety during these times can start small by reintroducing activities that they haven't been able to enjoy for quite some time. For example, visiting friends and loved ones outdoors is one way to help students remember what it is like to talk to someone face-to-face and not through a screen.
Start by dipping your toe back in and trying things that once were normal but are now a little bit different. It could be something like a trip to the beach. Perhaps you haven't been in a crowd since last year. If so, start in a place that feels safe. That way, your child is already used to some of the social interactions they can expect to experience on the first day of school.
2. Ask questions.
It's important to remember that we all have questions about school transitions and routines. Expect those questions to keep coming, and understand that is okay.
It's okay to ask questions, and it's okay to ask them again if needed. Don't be afraid to reach out to your child's teacher to establish a collaborative relationship and understand how the coming year might look. More communication is always better than less communication. The goal for everyone, including you and your child, is to reduce the number of unknowns before the first day of school.
3. Have open conversations.
Have open, age-appropriate conversations with your children to show them they are not alone. Kids should know even if we don't have all the answers, scientists, teachers, and family members are doing everything possible to ensure their safety.
Having these conversations is also crucial to managing mental health. Ask your kids about what they expect in the coming year. Listen to their concerns and work together to find ways to prepare them for the school year. See what they've missed over the past year and find ways to include the things they are excited about into their routine. Talk with them about fun memories they have of the last time they were in school. Ask them what is on their mind about the upcoming year. By recalling fond experiences, your child's nervousness or anxiety will transform into enthusiasm and excitement.
4. Use the resources available to you.
Finally, form a partnership with your child's school and use the resources available to you. Set up a means of communication with your child's teachers, the administration, school counselors, etc. That way, if issues do arise, contact can happen in a timely fashion.
If you start to have concerns like your child begins struggling academically, reach out to their classroom teacher. You can also inquire about meeting with a learning specialist or coach. If you have concerns regarding social and emotional well-being, don't be afraid to contact the school psychologist or guidance counselor.
A Necessary Adjustment
These past 18 months have been a difficult time for everyone. However, at Friends' Central we understand the importance of getting our students back to in-person learning. With adequate preparation, we can ensure the school year starts smoothly.
Above all, we must model patience, understanding, and flexibility. In what is likely to be the most challenging start to a school year we have ever experienced, we must go in with the mindset that we will do the best we can. So, continue practicing healthy habits like getting enough sleep, washing hands, and practicing responsible mask use.
Finally, the best back-to-school advice we can give is to do what we want our children to do. While COVID-19 changed many parts of life, Friends' Central still believes in educating children to be compassionate, critical thinkers with intellectual curiosity.